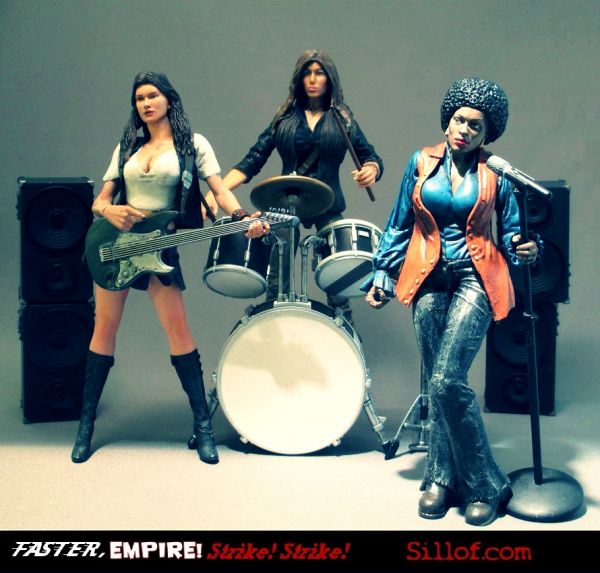 Sillof, the master of custom action figures (previously at Neatorama), has a new gender-swapped pop culture-mashup collection called Faster, Empire! Strike! Strike! commissioned by comedian Patton Oswalt. Here's the idea:
It's the Star Wars universe as interpreted by Russ Meyer. Busty, pneumatic amazons in all of the male roles, with one Li'l Abner-stlye lunkhead in the Princess Leia role. Cars and liquor and 60's-style garage rock. And, except for a couple of names and character ideas (I came up with "Darla Vade" and insisted she be modeled after the immortal Tura Satana) Sillof came up with the whole story, and all of the other characters. A film buff as well as a craftsman, this man.
Sillof not only created the figures, but also a personality for each of them. In the band shown here, you see Hanna "Guitar" Solo, Darla Vade, and Lanna Calloway playing together based on the all-girl band in the Russ Meyer film Beyond the Valley of the Dolls. See all the figures (yes, there's the one guy) and accessories, too, at his site. Link
---

We hope you like this article!
Please help us grow by sharing:
Get Updates In Your Inbox
Free weekly emails, plus get access
to subscriber-only prizes.
We won't share your email. You can cancel at any time.