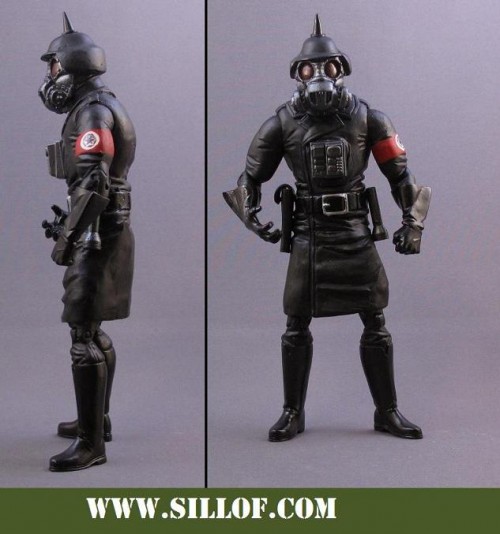 We scored an exclusive interview with Sillof, the creator of these awesome handmade toys. He's also making stop-action films now, which you can check out below. DI: How did you first hit on the idea of creating Star Wars character toys but spinning them WWII or Samurai, for instance? I think it's pretty brilliant! Sillof: Thanks, I had customized figures for years starting as a child when I wanted a Bespin Luke with no hand. Over the years I did mostly Star Wars figures but I used to do traditional interpretations of characters. Over time it got a little boring doing someone else's designs or annoying when I would spent a lot of time on a figure only to have Hasbro make the figure the next year. So I slowly began to think about the idea of putting my own unique spins on characters. My first line was a jumble of influences westerns, samurai, serials, etc. Then I began to break down the lines even further with one specific theme like Steampunk or WWII. DI: Obviously, a lot of work goes into each figure. Can you talk about the process a little? Break it down, step by step. Sillof: Step 1: The ideas are usually just 1 initial spark - like the idea that George Lucas had wanted to cast Toshiro Mifune as Obi-Wan and then I think what would that have looked like. Step 2: Then I just brainstorm out from there. What would Han, Boba Fett, and Vader look like. I really just think about it a lot on my way to work or before I go to sleep at night. Maybe I do a little research online for WWII soldiers, or Samurai, or whatever the theme is. But, this phase is 100% in my head. Step 3: I make a list of what I am going for on each character. The new name, the backstory, the feel, and the actual look of each figure. I don't ever sketch any part of the designs. Step 4: I look through my various drawers of parts and accessories, also known as fodder, for parts that could be useful. Step 5: I carve down the parts of other figures whittling them down to serve as a skeleton or armature and sculpt over them with a product called Aves Apoxie Sculpt and I let that harden. Step 6: I cobble the parts together. So in the end the figure is a mish mash of old toy parts, old parts sculpted over, and completely originally sculpted parts. Some figures are just unique combinations of other figures and some are 100% made from scratch, it really just depends on what I want the figure to look like and what I have. Step 7: I paint the figures with a special blend of paints I have created over the years for the right consistency and finish. Step 8. I finish the figures with a variety of dry-brushing and washes to give it my signature weathered look.
DI: I know this isn't your full-time job, but would you like it to be? Is part of the goal to attract enough attention that some manufacturer would let you mass-produce them or do you want to keep them as one-offs? Sillof: I am actually a high school history teacher by profession, and I l love my job. But, yes I would be great to get a job in the movie industry or toy making field. I really just do this a hobby and have rarely sold things. I am getting ready to sell off whole lines or sets of figures. But, It would be a dream come true to see my designs mass produced and based on the e-mails I have gotten from fans I think the line would be successful. DI: You're also doing stop-motion films now with some of the figures. What's that about? Sillof: When I was a kid I liked to make movies with my toys on my parents Super 8 camera. Of course they were "rough" to say the least. Then I saw a film years later done on VHS and I tried that but it was rough editing in the camera. Slowly over the years I made a variety of movie accurate dioramas. Now I have a production company and we have made a variety of short films for festivals and such. So with the technology and equipment that is available I began to think about going back to the project from my childhood. The movie is designed to be like the movies I made when I was a kid with my hand moving the figures in and out of shots and some rough stop motion. I also decided not to do any dialogue. It has a pure and simplistic quality but with really great dioramas and custom figures. I could have gone way overboard with it but I tried to make the movie I would have liked to have made as a kid.

DI: Of all the characters you've made, do you have a favorite? Sillof: I don't have a single favorite but some of the ones I would never sell would include the Steampunk R2 & 3PO, Steampunk Iron Man, Samurai Vader and Chewbacca, any Daredevil or Boba Fetts. DI:What do your kids think of all this? Sillof: If you mean my children, my daughter loves it. She recently turned 4 and has made her own figures. I have trays of parts and she picks a head, and arms, and legs and puts them together and paints them. If you mean my students, very few of my students know I have this as a hobby. DI:What's next for you? What can we expect in the next couple months? Sillof: I have 4 more parts of my Toy Wars movie done, I am just slowly releasing them online. I also have 4 new lines in the works in various stages of completion and 2 more in the design phase. Most, but not all, are Star Wars based like the other lines I have done in the past but are completely new takes on the movies. Thanks for the questions, I enjoyed answering them and am glad you enjoy my work.