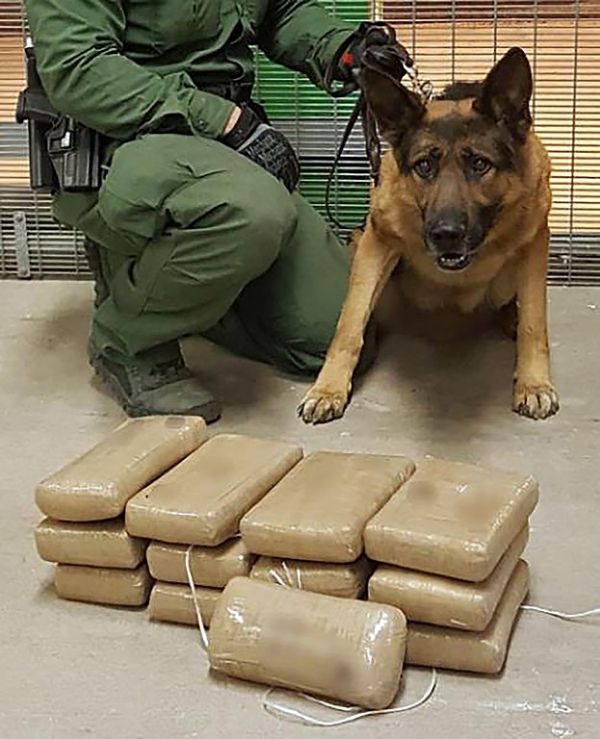 Dogs amaze us with their ability to detect scents from just a few molecules. At least we recognize their abilities, and use them to find things like drugs, explosives, and even cancer. But how to we train dogs to focus on one kind of smell? It's a basic dog training technique that's been refined to suit the dog's future job. But there are inherent dangers in these jobs, too.
While rare owing to the fact that the dogs are being used to find hidden drugs (thus likely barriers between the drug and the dog), it does sometimes happen where the dog may be exposed to something so toxic that even trace amounts pose a risk to them, such as relatively recently happened in Broward County, Florida where sniffer dogs were exposed to the extremely potent opioid fentanyl.

To get around this problem, the dog's handler will keep a vigilant watch and particularly not deploy sniffing dogs at all if there are any loose drugs present. For the unseen drugs that nonetheless may be particularly potent, the handler also might carry things like naloxone with them, which rapidly reverses/blocks the effects of opioids, just in case.
Read about the specific training technique for drug detection dogs, plus some of the benefits and dangers of using dogs to detect drugs and other contraband at Today I Found Out.
---

We hope you like this article!
Please help us grow by sharing:
Get Updates In Your Inbox
Free weekly emails, plus get access
to subscriber-only prizes.
We won't share your email. You can cancel at any time.