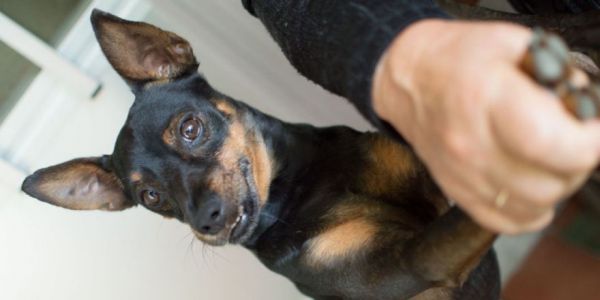 It's unconscionable for a vet to lie to us about our pet's health, let alone lying to us about putting the poor sick animal to sleep, but that's just what happened to Keri Levy and her family's dog Caesar.
Keri took the 15-year-old miniature pinscher in to the Briarwood Veterinary Hospital in Howell, New Jersey and was told Caesar would have to be euthanized due to a chronic medical condition called Cushing's disease.
ICYMI: Woman discovers dog she thought was put to sleep, was still alive https://t.co/zsMu6NFjCT #njmorningshow pic.twitter.com/QmXKF9BJlB

— News12NJ (@News12NJ) October 19, 2017
She agreed and went home, receiving a call later from the hospital stating Caesar was now "at peace", but then a week later she received an anonymous tip that Caesar was still alive:
Keri left her pet at Briarwood Veterinary Hospital in Howell, New Jersey, and says she later got a call that Caesar was "at peace" and that she could come back to retrieve his collar, reports NJ.com.

So when Keri received an anonymous tip last week that Caesar was still alive and living with one of the animal hospital's former vet techs, a wave of heartbreaking emotions reemerged. "It broke my heart in a way like my heart has never been broken," Keri told News 12 New Jersey.

Keri says that when she went back to Briarwood Veterinary Hospital to figure out what happened, she was shocked to learn that both the vet tech and Dr. George Menez, the vet who recommended the euthanization, no longer work there.

Luckily, the new vet in charge, Dr. Maureen Kubisz, helped Keri track down what happened to Ceasar.

Sadly, when Keri was reunited with Caesar he was even sicker than when she last saw him, and he'd lost 10 pounds. Unfortunately, Keri had to go to a different veterinary hospital to say another teary goodbye to Ceasar before the beloved pup was finally put to rest.
-Via CountryLiving
---

We hope you like this article!
Please help us grow by sharing:
Get Updates In Your Inbox
Free weekly emails, plus get access
to subscriber-only prizes.
We won't share your email. You can cancel at any time.