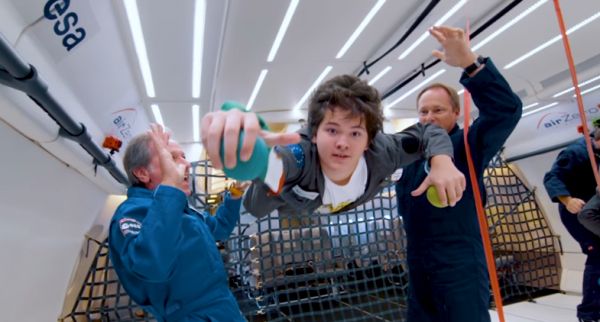 In a collaboration between Les Chevaliers du Ciel (The Knights Of Heaven), the European Space Agency (ESA), and noveSpace (a company that operates a vomit comet), a group of disabled kids got to experience weightlessness, accompanied by ESA astronauts. Ten people with mobility issues were freed from the limits of gravity. It was an experience to remember.
From the YouTube Page:
The kids came from five ESA member states – UK, France, Germany, Belgium, and Italy – and boarded the converted Airbus A310 Zero G in Bordeaux, France on 24 August as part of this "Kid's Weightless Dreams" flight. True weightlessness is produced in the large cabin area of this aircraft during repetitive parabolic maneuvers, as in the Air Zero G flights operated by Novespace.

The children also took part in education experiments including lighting a candle, mixing liquids of different densities, playing ping-pong with bubbles of water and working a fidget spinner to demonstrate the effects of weightlessness.

Joining the children were ESA astronauts from their corresponding member states: Tim Peake (UK), Frank De Winne (Belgium), Maurizio Cheli (Italy), Thomas Reiter (Germany), Claudie Haigneré and Jean-Francois Clervoy (France) mentored the children on board and answered their questions.

Two disabled adults, former athlete and German television personality Samuel Koch, a strong advocate for disabled causes, and Philippe Carette, a very active Rêve de Gosse volunteer and pilot, also took part in the flight.
Did you catch the girl who used the few minutes of zero-G to walk? That's at 2:35. The event was organized by Rêves de Gosse (Kids' Dreams), which provides children with educational opportunities and adventures involving space flight. -via Geekologie
---

We hope you like this article!
Please help us grow by sharing:
Get Updates In Your Inbox
Free weekly emails, plus get access
to subscriber-only prizes.
We won't share your email. You can cancel at any time.