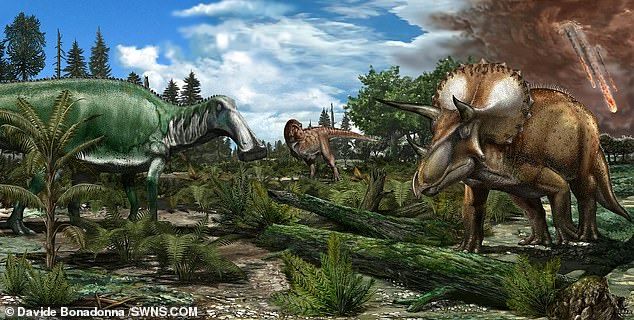 Scientists theorized that dinosaurs were on the decline before the asteroid that completely wiped them out 66 million years ago hit the Earth. It seems that their theories are about to be proven wrong! Researchers in a new study suggests that the huge beasts had been thriving instead, as Daily Mail details:
Previous works used fossil records to assess diversity of dinosaurs, but researchers in the latest study say how bones are preserved and other factors produce sampling bias.
Teams from the University of Bath and the Natural History Museum collected a set of different dinosaur family trees and used statistical modelling to assess if each of the main dinosaur groups was able to produce new species at the time.
This allowed them to examine the rates of speciation of dinosaur families rather than counting the number of species belonging to the family, revealing some groups, such as hadrosaurs and ceratopsians, were flourishing on Earth before the mass extinction.
image via Daily Mail