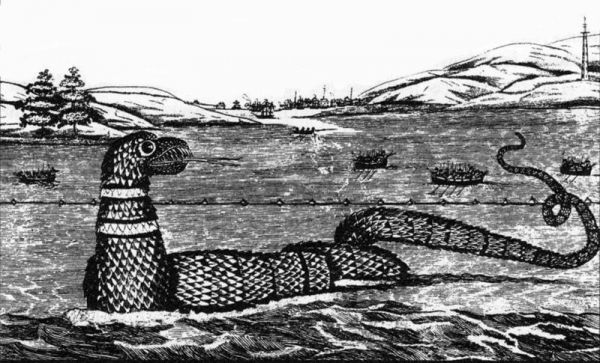 The summer of 1817 was peculiar in Gloucester, Massachusetts, as that's when the sea serpent was spotted. But today it is an afterthought to those who serve the tourist trade in this seaside town. Unless the locals near Loch Ness or Area 51 or any other mysterious sighting in history, they just don't talk about the sea serpent that might have become the town's legacy.  
Most cryptid sightings are one‐on‐one occurrences: someone alone at night, on a backcountry road or in an isolated woods. Sometimes it's a small group. Maybe there's a fuzzy photograph, but soon enough the creature vanishes, never to return. But the Gloucester sea serpent was different. Scores of people saw it—people came from all over, gathered on the shore to gawk, and there it was.

Visible from shore or from a boat, exactly as expected. Different people on different days, all independently, all with more or less the same basic descriptions. No other cryptid in the long history of such beasts can boast such visibility—not Bigfoot, not Nessie.

Whatever it was, it was not a hoax or a hallucination. The Gloucester sea serpent faded from memory because the New England Linnaean Society got it wrong, creating a new species based on a snake plagued by rickets. When their error was exposed, the original sightings, it seems, were forgotten. But while Jacob Bigelow's analysis of the rickety snake disproved the holotype specimen, Bigelow didn't disprove the sightings themselves. The people who saw the sea serpent all agreed it was much bigger than a normal snake anyway.
The story of the Gloucester sea serpent is explained here, in which scientists erroneously declared it a new species and then were disproven. That let the wind out of the sails as far as the town of Gloucester was concerned. Yet other cryptids remain popular, including a couple that were thought to be legendary and then were found alive. Read about them and what makes a cryptid spark the public's imagination at LitHub. -via Digg