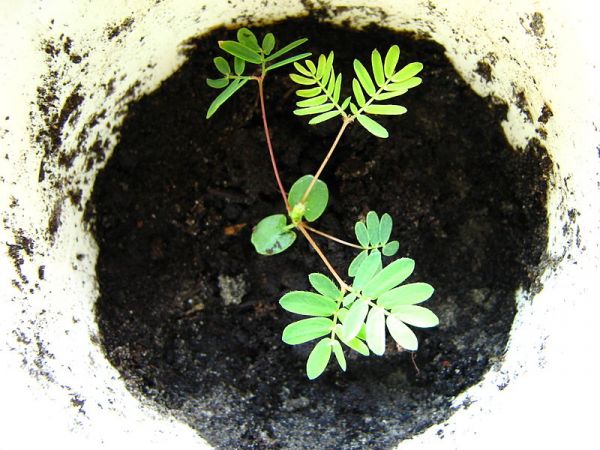 Plants do not have brains or neurons, so how can they possibly be intelligent? We know that plants communicate with each other through the exchange of chemicals. We know they react differently to different threats. We know they can share resources and support each other. We assume that plants developed these abilities through millions years of natural selection. They tend to do what is good for the species; that's why they've survived. Still, as we narrow the definition of intelligence, we find out more about how plants display their own type of "thinking." Evolutionary ecologist Monica Gagliano conducted an experiment in which she dropped potted Mimosa pudica plants from a height of six inches. The plant is famed for closing up its leaves when disturbed.
The first time Gagliano dropped the plants—fifty-six of them—from the measured height, they responded as expected. But after several more drops, fewer of them closed. She dropped each of them sixty times, in five-second intervals. Eventually, all of them stopped closing. She continued like this for twenty-eight days, but none of them ever closed up again. It was only when she bothered them differently—such as by grabbing them—that they reverted to their usual defense mechanism.

Gagliano concluded, in a study published in a 2014 edition of Oecologia, that the shameplants had "remembered" that their being dropped from such a low height wasn't actually a danger and realized they didn't need to defend themselves. She believed that her experiment helped prove that "brains and neurons are a sophisticated solution but not a necessary requirement for learning." The plants, she reasoned, were learning. The plants, she believed, were remembering. Bees, for instance, forget what they've learned after just a few days. These shameplants had remembered for nearly a month.
The more we find out about plants and their reactions to the environment, the more intelligent they seem, although it would have to be a completely different type of intelligence than we are used to considering. Read an overview of what we've learned about the amazing abilities of plants at the Paris Review. -via Strange Company

(Image credit: Johan)