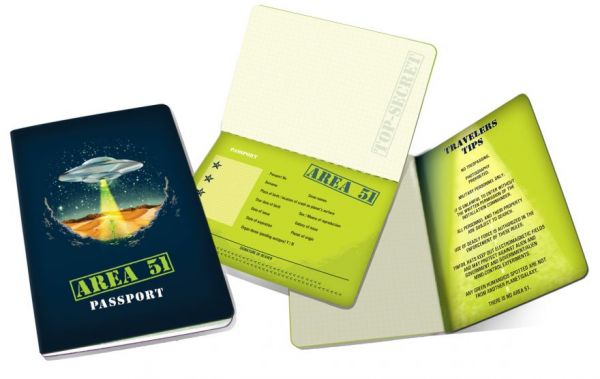 Planning an end of summer trip to your favorite secret military facility? Don't forget to pack the proper paperwork with the Area 51 Passport Notebook available at the NeatoShop. 
This handy little pocket notebook contains 48 grid pages for jotting down notes, theories, and illustrations of alien anatomy and/or spacecrafts.
Remember! At Area 51 security clearances are required and cameras are strictly prohibitied. Don't let a faulty memory keep you from recounting all the important details of your amazing trip.   
Be sure to check out the NeatoShop for more great Stationery. New items arriving all the time. 
Don't forget to stop by the store and check out our large selection of customizable Alien and non-Alien themed apparel and bags. We specialize in hard to find curvy and big and tall sizes. We carry 6 months baby all the way to 10 XL shirts. We know that fun, fabulous, and alien loving people come in every size.