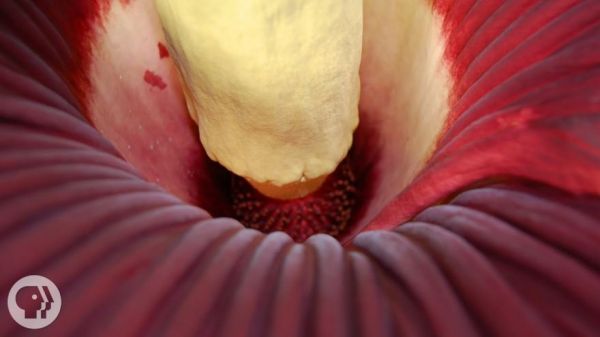 The "Corpse Flower" is one of the most unusual and beautiful plants in the world, and even though you've heard the name you've probably never seen one in person.
This tropical plant with the gross yet familiar name is known for both its rare beauty and its disgusting smell, but there's a whole lot more to the rare Titan Arum plant than a bad stench and a beautiful appearance.
And, as you'll see in this episode of the KQED series "Deep Look" the Corpse Flower isn't a flower at all, and it uses both its bad stench and flowery appearance to help it survive:
A corpse flower's whole survival strategy is based on deception. It's not a flower and it's not a rotting dead animal, but it mimics both. Pollination remains out of sight, deep within the plant. KQED's Deep Look staff was able to film inside a corpse flower, revealing the rarely-seen moment when the plant's male flowers release glistening strings of pollen.
-Via Laughing Squid