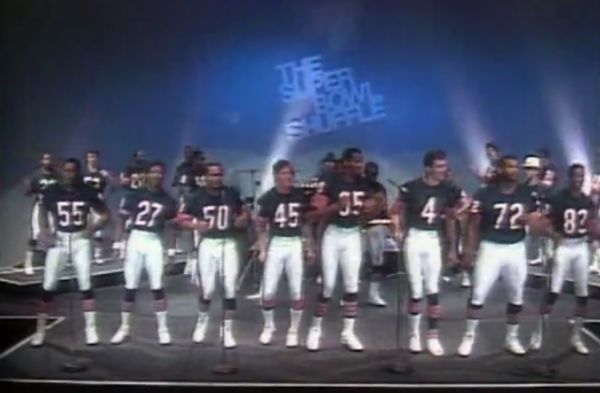 The Chicago Bears did not know they were going to win the 1986 Super Bowl when ten of the players got together to record a novelty song six weeks earlier. They didn't even know they'd be in the game. "The Super Bowl Shuffle" was a collaboration between wide receiver Willie Gault and Richard Meyer of Red Label Records. Other players wanted in on the fun, and besides, the song lyrics promised to "feed the needy." The song was an instant hit in Chicago, then went nationwide and ended up at #41 on the Billboard Hot 100.
Incredibly, the VHS copy of the video moved so many units it threatened to unseat Michael Jackson's Thriller on sales charts. In February of 1986, the song was nominated for a Grammy for Best Rhythm & Blues Vocal Performance by a Duo or Group. (It lost to Prince & the Revolution's "Kiss.") Best of all, the Bears's victory at Super Bowl XX was, at the time, the highest-rated in the game's history. What started as a glorified joke had become a lucrative venture.

Just how lucrative would quickly become an issue for Illinois's attorney general.

Gault and Meyer had succeeded in orchestrating an unlikely hit, but they did fumble one detail: No one had checked in with the head office of the Chicago Bears to see if "The Super Bowl Shuffle" had their official blessing.
Complicating matters, no one had determined how much of the profits would go to food charities, or how. Read how "The Super Bowl Shuffle" came about and mess that resulted at Mental Floss.
(Image source: vimeo)