Last weekend was WonderCon, the San Diego Comic Con's sister convention. I made the trip out to Anaheim to check out the event, especially the cosplay and I must say, I wasn't disappointed.
If you like these, don't miss my other pictures from WonderCon this year.
The Anaheim Convention Center is right across the street from Disneyland, so it's hardly surprising to see a lot of Disney character costumes. What was surprising was how fantastic some of the amazing costume mashups were -like this Slave Princess Jasmine.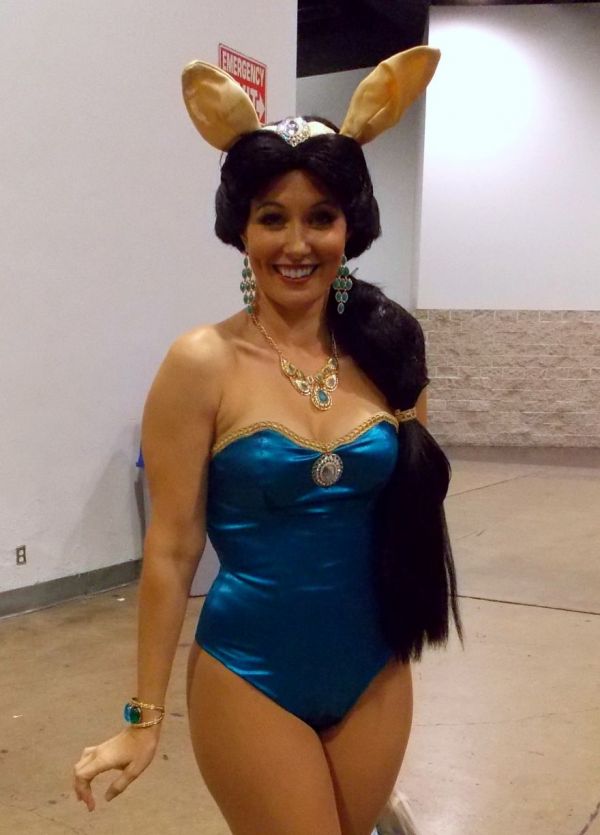 There was a whole set of seven Disney princesses posing as bunnies, but I only managed to catch this Jasmine (you can see the whole set here).
This drag version of Ariel by David Schafer was one of the most beautiful costumes I saw at the convention. Not surprisingly, she took home a lot of awards in the masquerade.
Of course, there's nothing wrong with the classic costumes either -especially when they involve adorable little ones as well.
One of the best things anyone can do to improve their costume is add props and this Red Queen's transformation of her wheelchair earned Elizabeth DeBoer the Judge's Choice Award in the masquerade.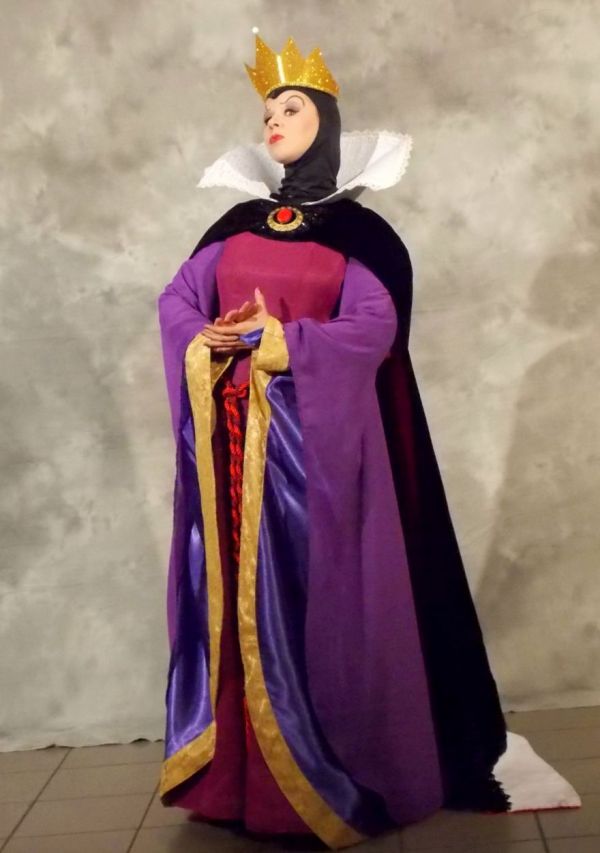 This Evil queen showed that details can make all the difference and her gorgeous gown, massive brooch and sparkly crown made her look like she just stepped out of Snow White.
Ursula was a popular costume this year and it was fun to see how each cosplayer interpreted her tentacles into clothing. I was a big fan of this miniskirt version.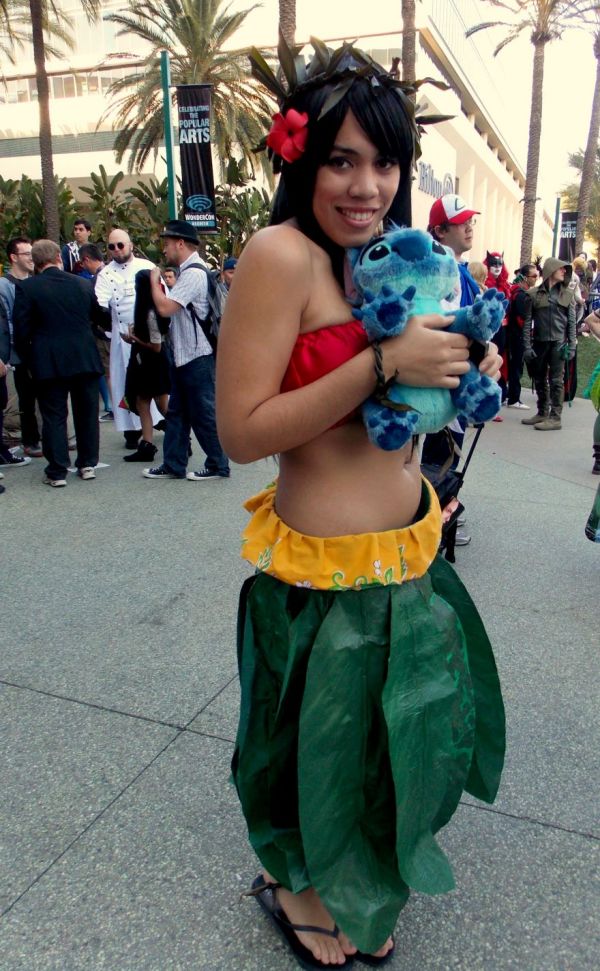 I was really excited to see this great take on Lilo and Stitch too since they are the heroes in my favorite Disney film.
There were a lot of Frozen cosplays there this year since it was the newest Disney film around. This team in the masquerade won Best In Show, but they also could have won an award for best Frozen costumes.
Of course, it wasn't just Disney characters that took advantage of the convention's proximity to the Happiest Place on Earth. Even Deadpool had a great time checking out the Mouse's house.
Of course, he is still Deadpool, so he still went ahead and took a selfie while holding a gun to his own head.
Here's a fun mashup -Pikapool. He had a lot of fun with Batgirl who seemed like she was content not to catch them all as long as she had that one already.
Here's a delightfully new take on Batgirl by Sidonie Smith. I was surprised she didn't enter the masquerade with this great costume, but she told me she only threw it together a day or two before when she found out she was going to WonderCon.
Here's another sparkly take on the Batman comics -this time it's Hollywood Harley and the Joker who were ready to direct the horrific version of the Joker from The Killing Joke.
If you prefer your Jokers to have already starred in a Hollywood film, here's the version from Tim Burton's Batman, complete with a boombox-carrying minion.
These two Marvel gals made some particularly impressive costumes -so impressive that they won a ton of swag from the Geek Magazine Award of the masquerade.
These two might be from different comic book universes and time periods, but they still make a surprisingly solid team.
I've seen a lot of X-Men characters cosplaying over the years, but these two might have been the most accurate to the comic books -especially Mystique.
This Doctor Doom costume was impressive, but I admit, it looked more than a little uncomfortable.
I promised not to show this youngster without a mask as to maintain her secret identity, but she was quick to remove it after shooting some web at me.
This Doctor Octopus costume was impressive beyond words. It was also nearly impossible for him to navigate through the rows of the convention floor. In fact, I asked him if he signed up for the masquerade and he told me that while he tried, he couldn't get up to the registration desk in time thanks to the 60 pound costume on his back.
There were a lot of Winter Soldiers, but none of them were nearly as impressive as this Lady Captain America.
She wasn't the only Captain America gal in a cute custom dress though. These two made quite the All-American hero's supporters.
You'll see plenty of Supermen if you go to conventions, but you'll probably never see one acting out the first appearance of the iconic character like Apollo J. Oliva did here.
You'll also be hard-pressed to find an entire Super Family like this one.
One cool thing to see at conventions are the rare varients of popular characters. This is Wild West Spawn, by Mike Syfritt, who managed to look even cooler than the regular Spawn, which is a pretty impressive feat.
Here's Fangirl in Marveland (played by Diana R. Wilson) who was predictably lost with all the great characters around her.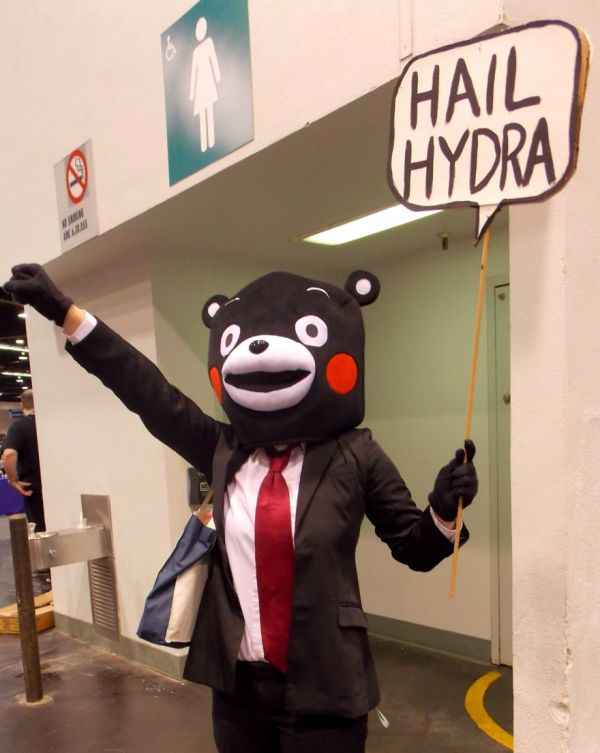 For those meme fans out there, here's one of the newer memes incarnate -the Hail Hydra meme.
And my favorite meme costume of the year -Doge.
Speaking of those obsessed with their computers, here's a WOW character with the player that controls her.
This Diablo III Demon Hunter costume was particularly impressive even though cosplayer April Bayer didn't happen to have someone to play her behind the screen.
I don't know about you guys, but I never thought GLADDOS was this sexy. Molly Garry certainly managed to create something totally new here.
This collection of Borderlands characters was so impressive I wanted to turn on my console and start playing.
Maxx Gonzalez (the captain of the group) and the rest of the team did one heck of a job recreating the size, proportions and silliness of Castle Crashers.
If you want to go to a convention with a little fun flair, but don't want to have your own crazy costume. A puppet is always a good option and this Marowak puppet was one of the most impressive I've ever seen at a convention.
These Powerpuff Girls kept things simple but still managed to master what makes each girl special.
There were quite a few adorable youngsters in the masquerade and Zumi Arraya was quite possibly the world's cutest Monster High cosplayer that day.
After attending dozens of conventions over the years, I still never saw anyone go as The Animaniacs up until this year, when Jacob Jake and his crew dressed up like our favorite weirdos. To really sell the characters, they even carried around a speaker with the theme song on loop.
These steampunk ponies knew not only their fandom, but also great fashion as each girl's unique costume really managed to reflect the personality of the pony she was portraying.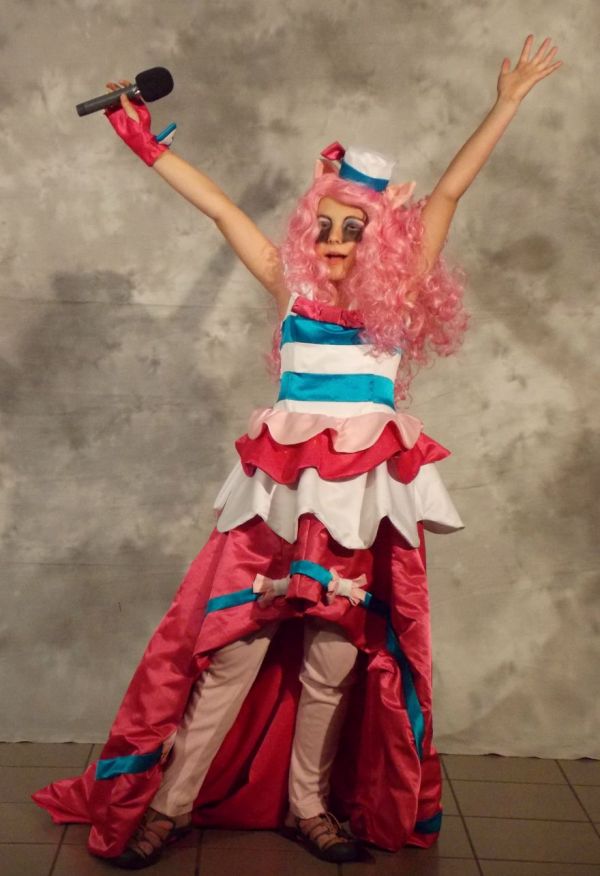 Alexandra Noah's take on Pinkie Pie also presented a uniquely adorable take on a particular My Little Pony and this little pony was ready to entertain.
Fans of The LEGO Movie would love getting to see Emmet and two reversable Unikitties cruising the floor of the convention.
Of course, seeing Sydney Taubert play Astrid from How to Train Your Dragon was also a pretty great treat -she did a heck of a job replicating all of her armor and props.
I've seen a lot of horror fans make costumes for conventions, but I've never seen anything as gorey as this great bloody cat puppet.
Then again, there's nothing wrong with the classics -like this Alien costume that was one of the most impressive creations I've ever seen.
Here's a closeup of the head because it was so impressive. I asked Mike Moore how long it took him to make this costume and he told me he spent five years putting it together.
This was another cool horror costume -this one put together by Niko from Face Off (who is a total sweetheart by the way).
This take on The Hobbit's Tauriel was pretty spot on.
And when it comes to new fantasy characters, Von Tran's White Owl Warrior is an impressive creation.
This Trekkie did a pretty great job creating a new alien race as well.
These crossplay versions of R2D2 and C-3PO were pretty adorable and the girls took to their characters well.
These two look pretty impressive in the picture, but the girl's horns were amazing up close. They really looked like skin.
Queen Amidala always seems to pop up somewhere at conventions, but with her incredible wardrobe, there's nothing bad about that.
Alyssa Morales made one heck of a Jawa, even if we couldn't see a square inch of the cosplayer underneath.
These two were quite a cute couple, even if the gent's glasses couldn't get me to stop thinking that he looked like Hipster Han.
When Spaceballs and Star Wars characters unite, you know you have something truly special.
Who knew the TARDIS had such a thing for Zapp Brannigan. Naturally, Zapp was interested in her, but not quite as much as he was interested in himself.
I'll be honest, I have no idea what this costume is...but I love it. If you can identify it, please let me know what it is in the comments.
Xena may be long gone, but her fans ensure she is never forgotten.
Rana McAnear not only does a great cosplay of Samara, she also was the model for the character.
Lastly, Jebediah here was the lone Amish person. Personally, I can't think of a better place to spend your Rumspringa.
So there you have it, some of the most delightful WonderCon cosplay out there. If you know the names of any of the cosplayers, feel free to comment so I can give credit where it's due.
Also, if you want to see more pictures of cosplay from the convention, don't miss this post on Rue The Day.