Happy Labor Day weekend! For those of you outside the U.S., this is a three-day weekend in honor of American workers and the American labor movement. A lot of nations have some kind of workers holiday, and since ours falls on the first Monday in September, it is celebrated with picnics, cookouts, harvest festivals, and preparations to send kids back to school if they haven't started already.

Here at Neatorama we are continuing to roll out new features one at a time. We introduced our new baby, the Batty for Halloween Blog! You can bookmark it if you like, or you can get there from Neatorama real easy by clicking that little jack-o-lantern up at the top of the page. The Halloween blog already has costumes, recipes, decorations, videos, history, and stories you'll enjoy -with a lot more to come!

Another new feature you'll want to try out is My Discussion. Click around and find out how easy it is to keep up with multiple discussion threads on the various posts here at Neatorama!


I've been quite busy, but I am gradually trying out all the new stuff here, too. I went to my Profile Page to write something about myself, but I never got around to it because I was distracted by the statistics. I was surprised to see I had written 11,101 posts! So of course I planned to take a screenshot when it reached 11,111. Alas, that milestone was missed because I was busy. But I also need to take some time and click the little heart at the top of more posts, because there are many, old and new, that particularly deserve a "♥" (too bad I cannot "♥" my own posts). You can go to your own profile page and see how many comments you've left, how many "♥s" they've drawn, and stuff like that.

And even though you can access our recent past features and open contests through the new leaderboard at the top of the page, I will still tell you about our exclusive features for this past week.

Jill Harness gave us 9 Pet Races You Might Want to Host Yourself, with plenty of video evidence.

Alex wrote about the new book Photobombed! Making Bad Pictures Great and Good Pictures Awesomely Bad and gave us plenty of funny examples.

From Eddie Deezen, we learned of 15 Really Strange Movie Credits, and then we got to read about (and watch) Woman Haters: the First Three Stooges Short.

Khakis: A Heat Stroke of Genius made the history of a fabric more interesting then you'd expect, thanks to Uncle John's Bathroom reader.

The Annals of Improbable Research brought us LIBRETTO: Chemist in a Coffee Shop.

Everything You Wanted to Know About Andy Warhol's Soup came from mental_floss magazine.

This was a week of winners, because we presented and wrapped up several giveaways. Our first giveaway on Pinterest, the Neatorama "Pin to Win" contest, was quite a success! Congratulations to the winners posted here. We may do this again real soon!

The Neatorama Caption Contest featuring a Bear in the Woods had a lot of great captions you should go read. Congratulations to the winners!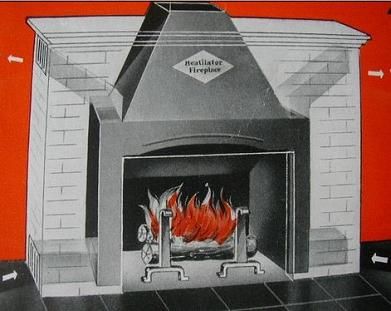 In the What Is It? game this week, the strange item shown is a salesman's sample of a Heatilator fireplace insert, although you have to admit that the picture you were given looks a lot like a sci-fi character's mask. There are more pictures at the What Is It? blog that showed how it looked completely folded and unfolded. Anker was the first one who knew what it is, and wins a t-shirt from the NeatoShop! Lord_Dissident gave us the funniest answer of the week: "It's a large hunk of metal that was only placed there to trip us up!" That's good for a t-shirt as well! Find the answers to all this week's mystery items at the What Is It? blog.

The post with the most comments this week was Should Polygamy Be Legal? followed by How Old is Too Old to Drive? and Restaurants Add Mandatory Tipping for French Canadian Customers. What all three of these have in common is that they all have polls attached in which you can register your opinion -and plenty of people did. However, most opinions are more nuanced than just "yes" or "no," so that's what the comment discussions are for. You are welcome to leave yours!
When you've caught up on everything else, be sure to check our Facebook page and our Google+ page every day for extra content, contests, discussions, videos, and links you won't find on our main page. Also, our Twitter feed will keep you updated on what's going around the web in real time. And remember, we always welcome your comments, feedback, and suggestions for making Neatorama ever better. Happy Labor Day!