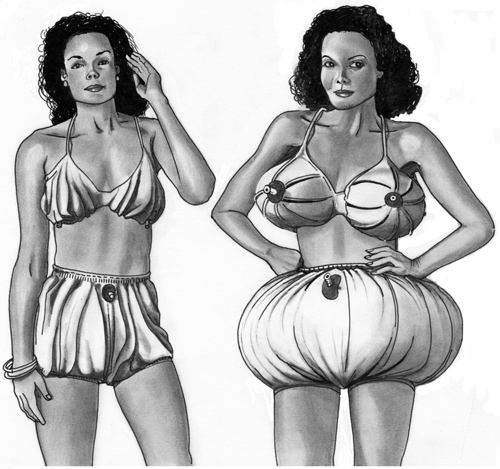 It has always been my habit to give an idea – any idea – a fighting chance to percolate in my mind for a while, letting it have full reign to explore its own possibilities. The flip side of this liberal and undisciplined attitude towards my own ideas is that they may seem irresistible and attractive even after their flaws are already apparent. Take my idea for Inflatable Swimwear. Was it really an idea worth elaborating, wasting my time on? The disadvantages of inflatable swimwear were immediately obvious! It is not only the opposite of sleek looking, but it presents an obstacle, even when not inflated, to rapid and efficient swimming.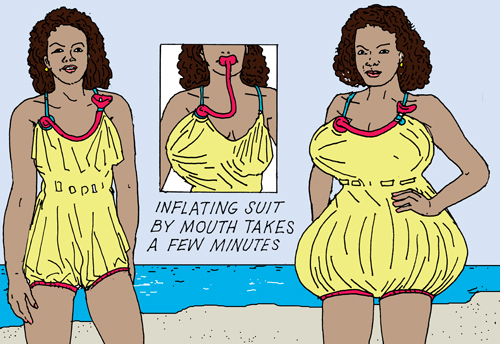 Yet it seems I did not know when to stop once I got this idea. Wishing to improve on it, I worried about the way an inflated top of a two-piece swimsuit would likely ride up around the neck while swimming, possibly exposing the breasts. I addressed that flaw by creating a full body inflatable suit, as shown in yellow.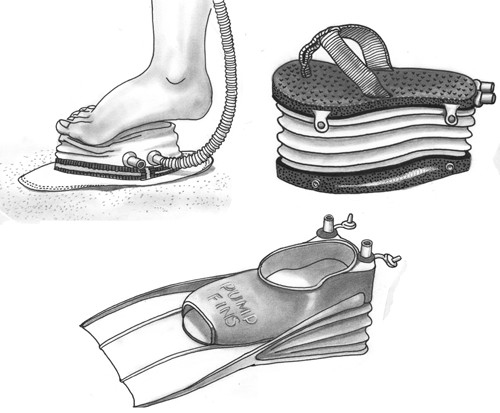 Thinking further, I wondered how such a suit might be inflated quickly and easily, given that blowing it up by mouth – as anyone who has blown up an air mattress by mouth on a camping trip can attest – is tiring and takes seemingly forever. Here, I adapted several items, commonly worn at the beach or swimming pool, as air pumps.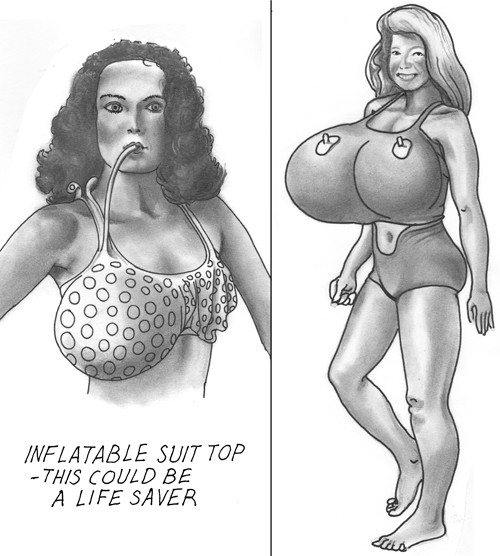 Naturally, an inflatable swimsuit would be cause for snickering and derisive laughter. Yet if a life were saved, who would be laughing then?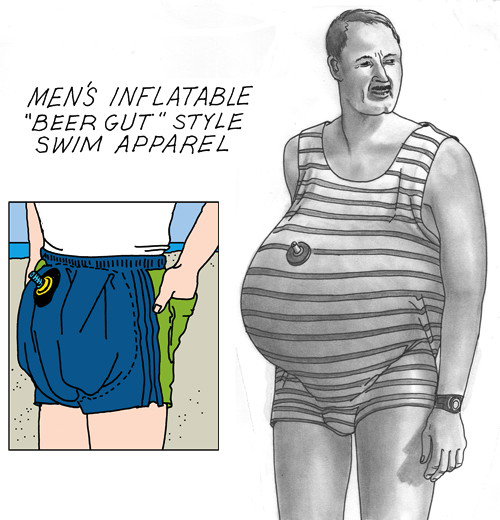 The style choices for a man's inflatable swimsuit would, according to present standards of allowable public nudity, allow for two options. The suit could either be worn as trunks or as a single-piece, full body suit, similar in appearance to the modest style favored by male and female swimmers during the Victorian era. More study is needed. If the inflatable chambers were placed mostly on the front side of the suit, such a design would tend to pull the swimmer over onto his or her back, which might make it difficult to swim, or to keep the head raised. Thinking more broadly, if getting an all-day sunburn – a burn on the front side of the body only – is desired, it would be easy to create a swimsuit that includes an inflatable raft on the back side that also supports the head. It could even include a hole for holding drinks. Excuse me, while I head to the drafting table to work on it!