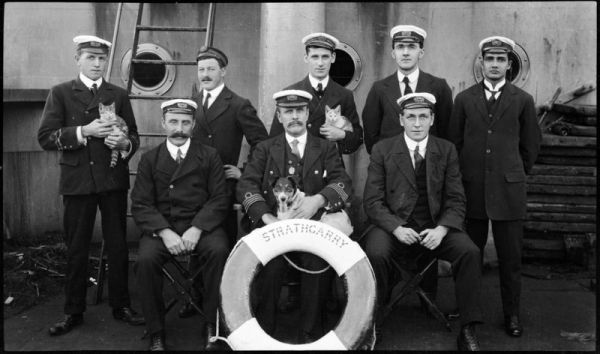 Ship's cats have always been common, because they are the best way to exterminate rats and other vermin on long voyages. However, cats are just one of many types of pets taken on ocean travels throughout history. Sailors have been accompanied by dogs, pigs, chickens, rabbits, and other animals, and not all of them were for dinner. Patricia Sullivan, founder and curator of the online Museum of Maritime Pets, talked to Atlas Obscura about the little-known tradition of land animals at sea. They served in wartime and peace time, too.
Pets were also trusted companions for maritime explorers. "Many pets were working animals on exploration vessels," Sullivan says, with dogs used for hunting at ports of call and cats on exterminator duty. More than all of this, seafaring animals played important emotional roles on long, grueling, monotonous, dangerous voyages plagued by uncertainty. "Sailors were out at sea for months or years at time, so pets were important de-stressors" she says. "I think people would have gone mad without something to pet."

A few years ago, Sari Mäenpää, a curator at the Maritime Museum of Finland, was conducting research when she first really noticed the presence of pets in the museum's image archives. "I came across loads of photos, especially from the sailing ship era, where cats and dogs were portrayed in 'official' crew photos, and suddenly I started seeing images of them everywhere."
Read about more of these seafaring pets at Atlas Obscura.

(Image credit: Australian National Maritime Museum Collection, Samuel J. Hood Studio)
---

We hope you like this article!
Please help us grow by sharing:
Get Updates In Your Inbox
Free weekly emails, plus get access
to subscriber-only prizes.
We won't share your email. You can cancel at any time.