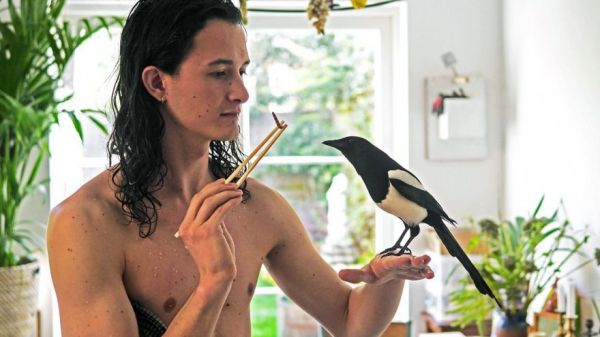 You always hear stories about cat people and dog people, so why don't we hear a peep about bird people? We probably don't hear about them because they're stuck at home taking care of their clingy little feathered dinosaur and cleaning its poop out of their hair.
I kid, I kid, but anybody who has owned a parrot, macaw, etc knows how attached those birds can become to their owners, and they know that a smart bird is a bratty bird. So imagine how much trouble a magpie would cause if humans were foolish kind enough to let one of the world's smartest birds move in with them.
Wait, don't bother imagining the magpie madness, watch this episode of BBC's My Unusual Life about The Man Who Lives With A Magpie and you'll see what it's like. Basically it's for the birds! *grin* (NSFW language)
---

We hope you like this article!
Please help us grow by sharing:
Get Updates In Your Inbox
Free weekly emails, plus get access
to subscriber-only prizes.
We won't share your email. You can cancel at any time.