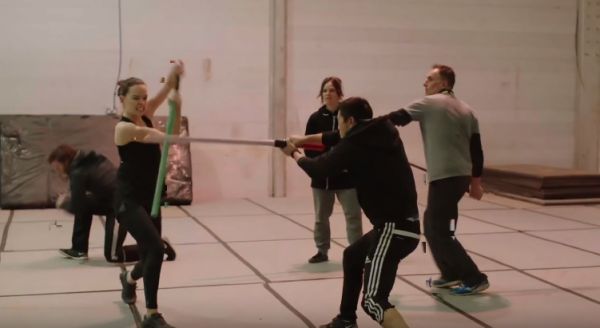 There's more to saving the galaxy than delivering your lines. If you're going to be in a Star Wars film, you're probably going to have to fight someone at some time. That requires physical stamina, choreography, and lots of training.
In this behind-the-scenes video from Star Wars, Daisy Ridley, Gwendoline Christie, Kelly Marie Tran, John Boyega, and Adam Driver talk about the extra time they had to put in just getting ready for the more physical scenes in The Last Jedi. So we know who's going to do the fighting, although that's not what you'd call a surprising spoiler. Don't miss Ridley whacking herself in the head with her staff. -via Tastefully Offensive
---

We hope you like this article!
Please help us grow by sharing:
Get Updates In Your Inbox
Free weekly emails, plus get access
to subscriber-only prizes.
We won't share your email. You can cancel at any time.