Last weekend Zeon and I went to the San Diego Comic Con and took cosplay pictures just like we have every year since 2009. Whether you like comics, movies, television shows or even hot sauce, there's bound to be a costume in this gallery that you'll enjoy.
This Deadpool impersonating Bob Ross was a fun sight.
Especially when you saw his great artwork complete not only with happy little trees, but also a flying chimichanga.
A particularly fun trend this year was costumed characters cosplaying as other things, like these dinos -one of whom was dressed as Deadpool while the other two were Jedis.
Some of the most incredible makeups at the convention were actually created on site to help promote Cinema Makeup School. With outlandishly impressive creations like this, I'd say they did their job.
Cinema Makeup School also made this amazing Hatbox Ghost.
And the Hatbox Ghost wasn't the only Haunted Mansion character there.
Of course, a cosplay doesn't need to be over-the-top to be impressive. I was in awe of the balloon creations this guy made and wore throughout the weekend.
This sadness puppet was also incredible and the talented puppeteer operating her also created other impressive creations like Assistant Mayor Bellweather from Zootopia.
Speaking of kid's movies, Moana was easily one of the most popular cosplays seen around the convention and this duo that came complete with Heihei, the stupid chicken was easily one of the best.
Then again, the many Te Fiti costumes were also pretty impressive if only because bringing thegreen island goddess of life into a cosplay is just impressive in and of itself.
Speaking of impressive translations of characters from kid's movies, this Lumiere costume was simply beautiful.
And while they may be from very different worlds, I would love to see that Lumiere hanging out with this couple from Harlots.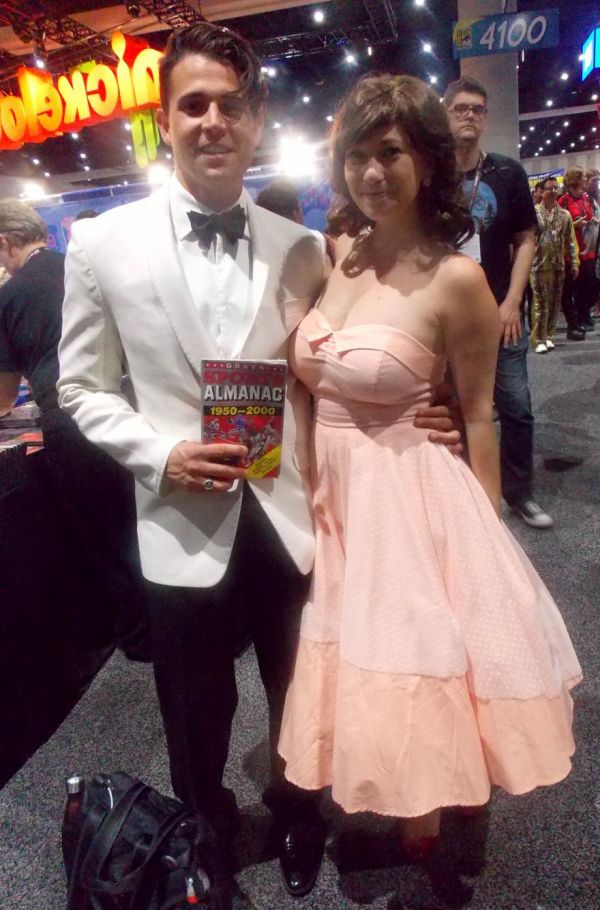 Speaking of couples, the future certainly looks bright for this couple right out of Back to the Future.
And this fantastic older Han and Leia make me sad for both what happened in the world of Star Wars and in the real world.
These two look like a match made in heaven -or at least, somewhere in the afterlife.
Then again, there are some couples that just shouldn't be together -like Little Finger and Sansa.
This Jessica and Roger Rabbit sure look a lot better matched up than they did in the movie.
And this Agent Carter costume might not be the most accurate one I've ever seen, but it sure is the cutest.
The same thing goes for this White Rabbit cosplay by Sir Griffin -yeah, that's right, this dog has an Instagram because he's a famous cosplayer.
Speaking of famous cosplayers, here's the lovely Gogo Incognito in a decidedly less-than-lovely White Walker costume.
And here's the Mother of Dragons in all her fiery (mostly naked) glory.
There was more than one babe burning up the convention with fiery body paint too.
In fact, there were a few really cool Ghost Rider costumes this year.
And a lot of impressive Jokers.
Like this Batty clown.
This was one of the best takes on Jack Nicholson's Joker I've ever seen.
But this LEGO Batman Movie cosplayer was my personal favorite.
And this punk Two-Face was pretty awesome too.
And I'm required to say this Harley is "the bomb" or face a mallet to the head.
With the Red Hood around though, I'd lay low if I was a villain.
And you don't want to mess with Superboy and Miss Martain.
This formal Diana was movie ready.
And you never see a classic Shazam like this around.
Between Batman, Red Hood, Wonder Woman, Shazam and Supergirl here, I think the Gotham criminal element will be cleaned up in no time.
Of course, where there's DC, there's Marvel and this Doctor Strange really put some work in with his props.
This Cable based on the X-Men cartoon was pretty great too.
This Samurai Iron Man is pretty cool...
As is this sock-hopping Rogue...
And this laid back Deadpool...
But when it comes to crazy Marvel movie mashups, Hello Kitty Thor takes the cake.
It might take all of their powers combined to stop this impressive Doctor Doom.
Maybe DC and Marvel will even need to get together to fight him -it looks like X Force Deadpool and Zatanna are on the case.
Speaking of characters from totally different universes, this steampunk female Tin Man and demon don't go together at all, but man did they work well together.
It's also surprisinng just how well this BB-8 and Hit Girl look together.
My favorite BB-8 dress was absolutely this one though, especially since she even carried around a perfect purse and blue "flame" for accessories.
When it comes to carrying around accessories, no one beat this Sherlock though -who carried around her own door everywhere she went.
You've always got to appreciate a cosplayer who has his own sign attached to his costume.
Oddly, Tapatio man wasn't the only food-based cosplayer at the convention. This one was actually created to promote a waffle restaurant nearby.
There were actually some pretty fun promotional costumes out there this year, like this Conan.
And this Ninjago character was pretty great too.
Some cosplayers seemed like they needed a corporate gig -like this Jedi.
This stormtrooper was smart enough to get a second job on his own -as a legendary dare devil.
Ron Burgundy was on the job interviewing cosplayers as they entered the convention. It was pretty hot outside, so you can be sure he didn't drink any milk.
Ron wasn't the only one up to his old tricks, Jareth was out there trying to steal Toby the baby -only he apparently didn't realize that 30 years passed since the first time he took the tot.
By the way, it's a perfect time to play "which Goblin King wore it better?"
When it comes to beautiful cosplay fashion though, this butterfly unicorn absolutely wore it best.
Then again, The Dude would be the first to explain to me "that's just, like, your opinion, man." On a fun side note, he also had Donny's ashes in a coffee can in his bag.
These two Vikings cosplayers looked like they fell right out of the screen.
This Tom Baker cosplayer was one of the best I've ever seen.
And the same goes for this incredible Michael Jackson lookalike.
I'd recommend everyone beat it before they bump into this warrior Peach.
The again, these two might be the most dangerou characters on the floor.
The again, if things got crazy enough, it was comforting to know Rick was there to just open a portal to another dimension.
It's worth noting that this year the convention instituted a rule that anyone in the masquerade couldn't wear their costumes before the masquerade, which means participants could only show them off on Sunday. As a result, some of the best costumes at the convention were only seen at the masquerade. On top of that, I'm six months pregnant, so walking all over the convention to find the best cosplay wasn't an option as my back was killing me the whole time. Despite these two set backs, I think we still got some good pictures of some great cosplays. If you're not satisfied with all of these pictures though, you can always see some of our photos from past years (2009, 2010, 2011, 2012, 2013, 2014, 2015 and 2016) and even more cosplay photos on my site, Rue The Day (2008, 2009, 2010, 2011, 2012, 2013, 2014, 2015, 2016 and this year). You can also find some of the sexiest ladies at Comic Con from 2016, 2014, 2013, 2012, 2011, 2010 and 2008, the hottest guys from2016, 2012 and 2011 (I've only done this fewer years than the female galleries because there's often not enough guys running around half-dressed) and both genders from 2015.
This year I've also covered some of the best genderswaps and the biggest trends from this year on Geek Native and group cosplays on Oddee.
---

We hope you like this article!
Please help us grow by sharing:
Get Updates In Your Inbox
Free weekly emails, plus get access
to subscriber-only prizes.
We won't share your email. You can cancel at any time.