Kids don't have a filter when it comes to blurting out whatever is on their mind, a quality that adults are envious of yet can cause embarrassment for their parents.
I was explaining to my niece the difference between things that can and can't change about people. She was confused, because she'd met a set of three siblings and the eldest wasn't the tallest.

So I told her that one day even SHE, an itty-bitty four year old, could be taller than me, a big huge grownup. But even if she was taller, I would always be older.

She looked me serious as you like and says, "You'll be dead sooner too."
But the unfiltered stuff that comes out of their mouth isn't always cute and endearing- sometimes it's downright chilling.
I can't remember if she was 3 or 4, but our little daughter's voice peeped up from the back seat one morning:

"Dad, do babies bathe in blood?"
They don't really understand why the words they're saying are disturbing to their parents, since they don't quite grasp grim concepts like murder and mortality.
But sometimes it's hard to believe they don't actually understand what's wrong with the words coming out of their mouths:
My 6 year old daughter in the passenger seat a few days ago looked at me and said "Dad. When I'm seven I'm going to kill you. No, wait. When I'm eight."

I had to ask, "How are you going to do that?"

She smiled and said, "I'm gonna drive over your head with this car."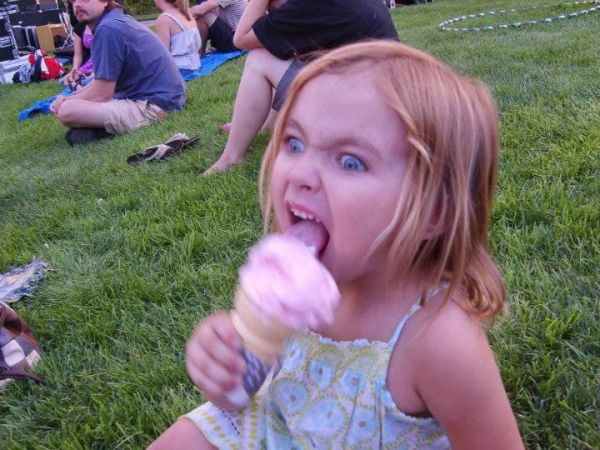 The Parents of Reddit were asked "What is the most dark/chilling thing your children have said?" and they shared stories of murder plans, predicted miscarriages and imaginary friends who go bump in the night:
My niece drew a picture "of a man in her room" that she kept telling her parents about. He had two different colored eyes, and one was gray.

When asked why it was gray, she responded, "Because he can see the storm coming."
See 20 WTF, Chilling and Dark Things Kids Said To Their Parents here
---

We hope you like this article!
Please help us grow by sharing:
Get Updates In Your Inbox
Free weekly emails, plus get access
to subscriber-only prizes.
We won't share your email. You can cancel at any time.