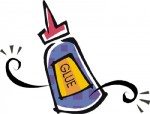 A 2-year old in Texas glued his mouth shut after sticking a tube of glue in his mouth. The Mom called 911.  Police and paramedics responded to the scene. The Mom, however managed to get the little boy's lips unglued with warm water.
This is further proof that toddlers get into everything and anything.  I'm pretty sure he isn't the first kid to glue his mouth shut. I'm glad he is OK.
http://www.ktre.com/Global/story.asp?S=12893385
---

We hope you like this article!
Please help us grow by sharing:
Get Updates In Your Inbox
Free weekly emails, plus get access
to subscriber-only prizes.
We won't share your email. You can cancel at any time.