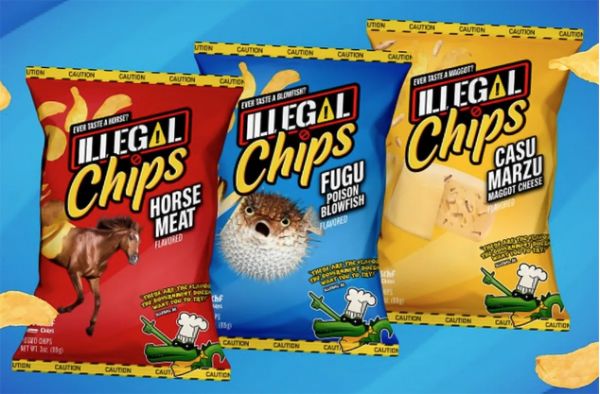 The science of artificial flavor allows us to taste things that we'd normally never eat. Prank marketing group MSCHF (previously at Neatorama) ran with that idea and offers us Illegal Chips. This is a limited-edition selection of (possibly potato) chips that come in the flavors of forbidden food. You can try horse meat chips, fugu fish chips, and casu marzu chips. Casu marzu is the Sardinian cheese that contains sheep milk and live maggots.

Wanna try these Illegal Chips out? It will cost you around $4 for a 3-ounce bag, but only until they sell out. There are risks involved, even though the chips don't contain any of the foods they purport to taste like. One the one hand, they could taste awful. On the other hand, you might find you like one of them so much that it induces a craving for a dish you can't obtain, or obtain easily.

You can watch a video of a taste test of the fugu-flavored chips at Boing Boing.