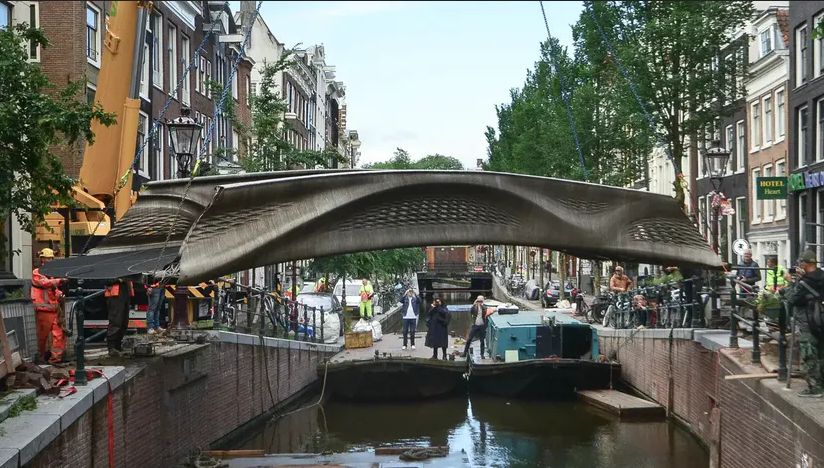 Dutch company MX3D installed the world's first 3D-printed steel footbridge in Amsterdam! The project, which was unveiled by Queen Máxima of the Netherlands, was done to show how 3D printers can be used to create one-of-a-kind products, which would be difficult or impossible to achieve using mass production methods. The 12-meter novel bridge is a pedestrian footbridge that spans the Oudezijds Achterburgwal canal:
This footbridge isn't only an artistic novelty; it is also a scientific instrument. MX3D and Imperial College London researchers outfitted the bridge with a network of sophisticated sensors. Those sensors will let them gather data on how the bridge holds up to the stress of being a part of real-world infrastructure. The research team created a "digital twin" of the bridge, with is a simulated duplicate. They can feed the real-world data into that simulation to refine their models. We have accurate physical simulations for cast and extruded steel, but 3D-printed steel is still something of an unknown.
With this data, they will be able to see how the real bridge holds up compared to their predictions. That data will be invaluable for developing reliable simulations, which will improve the design of future 3D-printed structures. In the interest of progress, the collected data will be made available to researchers around the world who want to help with analysis.
Image credit: Imperial College London