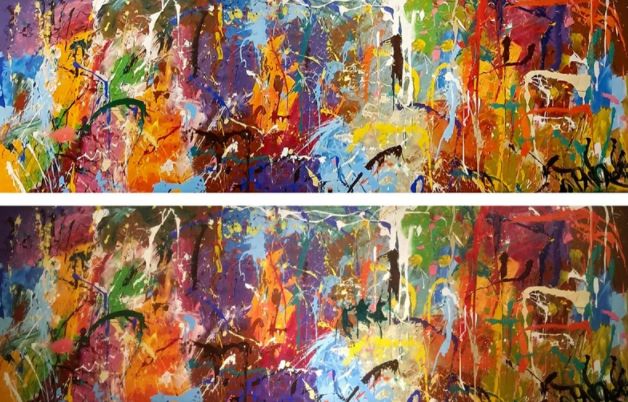 A couple who visited a Seoul art exhibition accidentally defaced a $450,000 abstract painting. The artwork, called, "Untitled," was created by JonOne. The young couple thought the expensive painting was an interactive exhibit where they could add their own input to it. So they picked up a paint brush and added a few dark green strokes, not knowing that the artwork wasn't interactive at all:
Alarmed by the defacement, the organizers of the Seoul exhibition called the police and reviewed surveillance footage to track down the couple, who said they mistook the setup as an invitation to collaborate. (It was not; the display of paint and brushes was a nod to the artist's creative process.)
JonOne, who painted the graffiti-style piece, was initially shocked by what he thought was an act of vandalism.
"What is this shit?" he recalled thinking. Then, he told VICE World News, he "realized their misunderstanding by watching the video."
Born John Andrew Perello, JonOne's reaction followed a flurry of global media reports about the incident at the exhibition, called Street Noise, that opened in February at a gallery in Lotte World Mall in the Korean capital.
"With just three brush strokes on my canvas, they have managed to cause a planetary buzz?!? There is strength in that," the artist said in an email.
Image via Vice