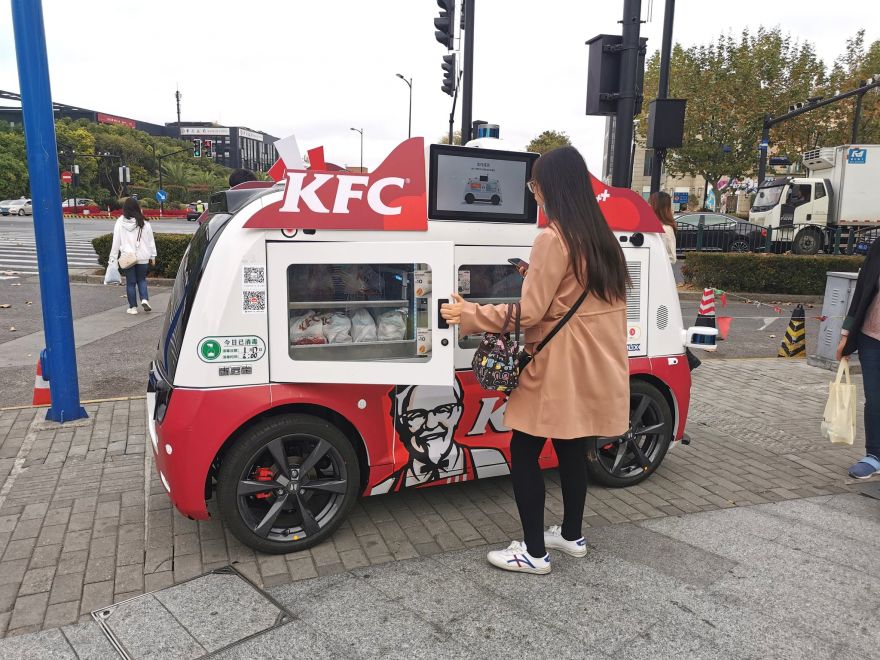 SoyaCincau reports that Kentucky Fried Chicken has deployed driverless food trucks in Shanghai. These autonomous vehicles let people purchase KFC food without having contact with other people, thus reducing the spread of COVID-19:
The unmanned vehicles were spotted in front of a metro station outside the city of Shanghai. From the looks of it, you can place an order on the screen and it accepts payment via QR-code. After payment is made, the door will open for you to collect your order.
Neolix, a Chinese firm that manufactures the trucks, is one of several companies in that nation that are finding commercially viable uses for autonomous vehicles. Forbes reports:
Roads connecting two of western China's biggest cities — -Chengdu and Chongqing — offer good prospects for autonomous vehicle-related companies and technology. The 200-plus kilometer distance between the two is appealing for self-driving trucks given currently available technology, said Lou Yuqiang, a vice president at Suzhou Plusgo Auto Technology. The company supplies integration technology for self-driving trucks. 
Neolix, a supplier of mini delivery vehicles for food sales, patrols and delivery, sees promise in urban areas, particularly Chengdu and Chongqing, says vice president Xu Qiyuan. The company is currently working with global food giants such as KFC and Pizza Hut to provide a "restaurant' on wheels" service.
-via Super Punch | Photo: @shanghaineko