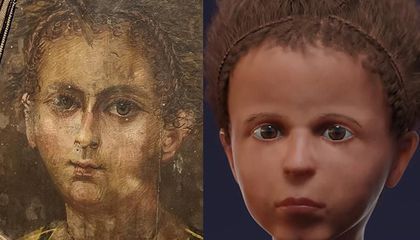 A 3D facial reconstruction of an Egyptian boy was revealed by European researchers. The boy was estimated to have been mummified during the first century A.D., and the digital reconstruction resembles a lifelike portrait of the deceased that was buried along with his remains. These "mummy portraits" that were used for comparison to the reconstruction was a popular practice among certain strata of Roman Egyptian society, as the Smithsonian details:
Compared with the ancient funerary artwork, the modern reconstruction shows "considerable similarities"—albeit with one notable exception, as the team notes in the journal PLOS One.
Analysis of the skeleton's bones and teeth suggests the boy was roughly 3 to 4 years old at the time of his death. But the researchers point out that "on a subjective level, the portrait appears slightly 'older,'" likely due to its lithe depiction of the child's nose and mouth.
This more mature representation "may have been the results of an artistic convention of that time," lead author Andreas Nerlich, a pathologist at the Academic Clinic Munich-Bogenhausen in Germany, tells Live Science.
Similarities between the boy's portrait and the digital reconstruction may help answer a question that has lingered since British archaeologist W.M. Flinders Petrie discovered a trove of mummy portraits in Egypt's Fayum region in the late 1880s: Who do the artworks represent?
Image via the Smithsonian