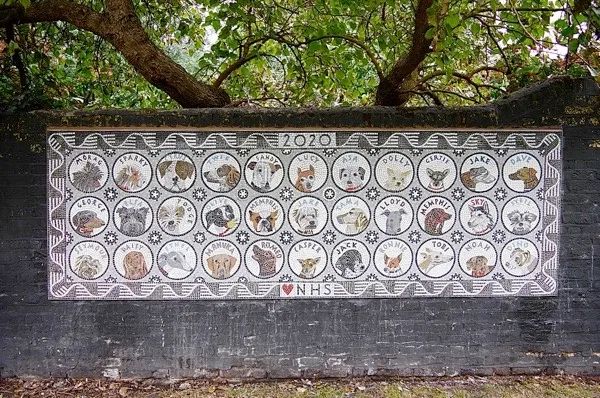 The Hackney Mosaic Project has been beautifying the Hackney neighborhood of London by installing locally-produced mosaic art at Hackney Downs park and other places. Under the guidance of mosaicist Tessa Hunkin, people learn to make sturdy art from broken tiles and ceramics.
The Hackney Mosaic Project aims to help people with addiction and mental health problems and at the same time to improve neglected corners of the city. We engage volunteers, recruited both from the Hackney recovery Services and the local community, in making large mosaics in Hackney Parks and other locations. We also teach and encourage them to create their own artworks.

The Project does not just make colourful pictures out of broken fragments - it also helps to piece back broken lives, and build a new community by bringing people together around a shared vision.
The project's latest public work is a large mosaic called the Hounds of Hackney Downs, the second of its kind, featuring portraits of the dogs who frequent the park. The mosaic was installed Wednesday, and the official unveiling will be later this month, to which the dogs themselves are invited. You can see closeups of the mosaic dogs at Spitalfields Life.

Read more about the project at its website. You can even buy some mosaics through their Etsy store. -via Nag on the Lake