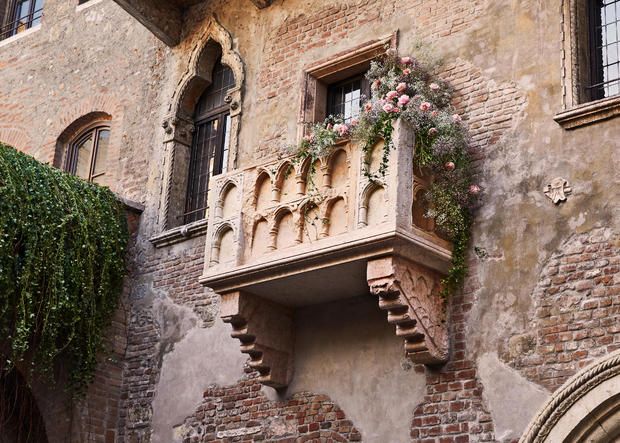 Amp up the romance this coming Valentine's Day by taking your lover to a vacation in Juliet's historic home in Verona, Italy. Yes, you heard that right, Juliet's home (from the Shakespearean classic Romeo and Juliet) is available for reservation. Airbnb will grant one lucky couple a stay at Casa di Giulietta, letting them use the actual bed used in the 1968 movie adaptation of the play. It's all romance and fate, no poison included, as CBS News details: 
"Juliet's House is the most important museum in the City of Verona, attracting millions of visitors every year. Partnering with Airbnb brings the widely-known Shakespearian myth of Romeo and Juliet to life in a way never before offered," said Mayor of Verona Municipality Federico Sboarina. "We are excited to promote our cultural heritage, share traditions that were previously safeguarded, and bring international visibility to the City of Verona."
The trip also includes a personal butler, a candlelight dinner and cooking demonstration by two Michelin starred Italian chef Giancarlo Perbellini, an opportunity to read and answer some of the 50,000 letters addressed to Juliet every year, a private tour of the home and a tour of Verona, the city of love, through the eyes of Shakespeare himself.
"This stay will give one couple the unique chance to celebrate their love in what is possibly the most romantic home in the history of literature," sai

d Giacomo Trovato, Airbnb's general manager for Italy.



image via CBS News