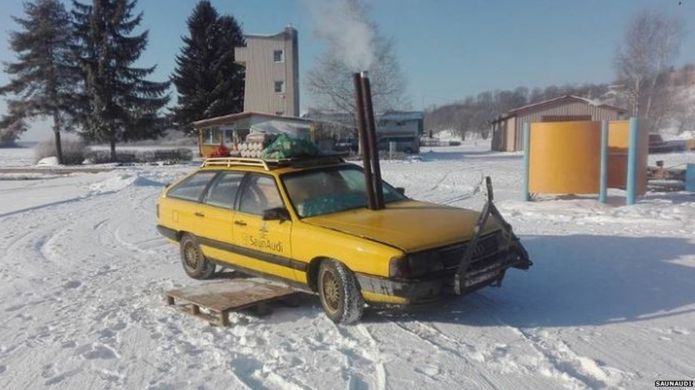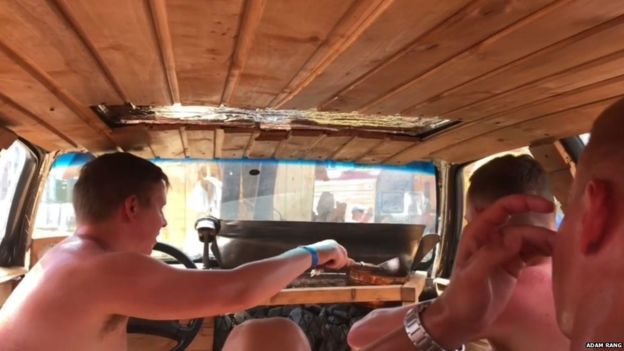 Have you ever thought of sauna on wheels?
At a sauna festival in the Estonian town of Rakvere, there were many saunas on display. But one sauna was so unusual that it captured everyone's attention: a small yellow car that has been converted into a mobile sauna:
"The upcycled third generation Audi 100 Avant from 1984 would look innocuous from the outside if it wasn't for one dead give-away - a chimney sticking out of the bonnet. Inside, the soft seating has been replaced with the customary sauna wood interior. The space, which also boasts LED lighting, a four-speaker sound system and a USB connection, can accommodate up to five people before it might begin to feel too cosy."
This magnificent mobile sauna was created by a group of friends. The idea originated from their difficulties in renting a mobile sauna. They then figured that it would be cheaper to buy an old car and convert it into a sauna instead. Their expenses amounted to €200 (around $ 226). Not only were they able to cut down their sauna expenses, but it was also theirs to keep.
Sauna blogger Adam Rang told BBC about his experience of the mobile sauna.
"When I first saw it, I thought it was just a good joke but to my surprise it delivered a great sauna experience too. It's a bit of a tight squeeze inside but it has a nice wood-burning stove with rocks at a low level that circulate leil, or sauna steam in Estonian, very well around the space."
Image: SaunAudi/ BBC News