It took humans no time to crack into a skull. Cracking the art of neurosurgery? That's a different story.

2ND CENTURY

Greek physician and philosopher Galen performs the first experimental studies on the brain. He wants to find out whether an animating life force, known as the "psychic pneuma," exists in the brain's ventricles. Since human dissection is taboo, he focuses on goats.

900

Western knowledge goes dark, but progress continues in the Islamic world, thanks to star surgeons, like Abu Bakr Muhammad ibn Zakariya al-Razi. He emphasizes that locating pressure on the brain is important for making head injury prognoses.

927
Preanesthesia, surgery is tricky. An operation on the king of Dhar (in modern India) involves numbing him with an unknown substance, drilling the skull to remove a tumor, and waking him by pouring onions and vinegar in his mouth.

1163

Brain surgery declines after an 1163 edict from the Catholic church: "Ecclesia abhorret a sanguine" ("the church detests blood"). It forbids clergy from doing surgery, limiting it to uneducated barbers, who trimmed beards as often as they amputated legs.

1550s
(Image credit: Wellcome Images)
Despite their claim of removing the "stone of madness" from the mentally ill, barber-surgeons are banned from holding the knife. But they can still pull teeth, among other things. The swirling candy cane outside barbershops traces to their bloodletting days.

18TH CENTURY

French surgeon François Quesnay proves the brain doesn't feel pain—by driving nails through dog brains. He cautions that procedures should always take place in the patient's home rather than a hospital, which is rife with "unwholesome air."

1908
(Image credit: Wellcome Images)
Neurosurgeon Victor Alexander Haden Horsley co-invents the stereotaxic apparatus, a device that allows surgeons to dig deep into the brain. Horsley would later die from heatstroke while volunteering in Iraq during World War I after refusing to wear a hat.

1935

After experiments at Yale show that removing the frontal lobes of aggressive chimps makes them more docile, Portuguese neurologist Egas Moniz oversees the first frontal lobotomy. It's a success. In 1949, Moniz wins the Nobel Prize.

1948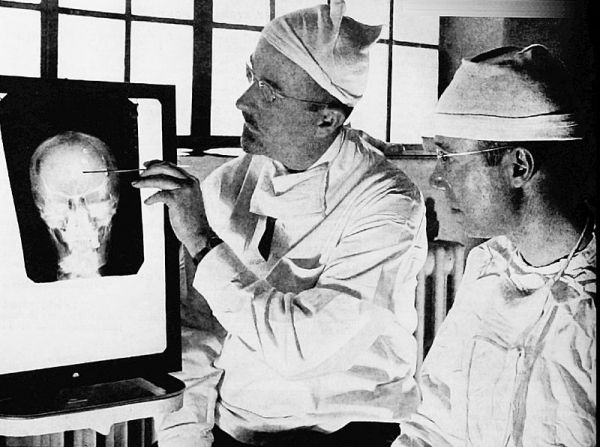 Walter Freeman invents the transorbital lobotomy, or "ice pick surgery." (He hammered a pick above the eyelid.) Freeman drives cross-country in a "lobotomobile" to perform it, and the press calls it a "personality rejuvenator." Research later proves otherwise.
________________________________
The article above by Bess Lovejoy appeared in the November 2015 issue of mental_floss magazine. It is reprinted here with permission.
Feed your brain by visiting mental_floss' extremely entertaining website and blog today for more!