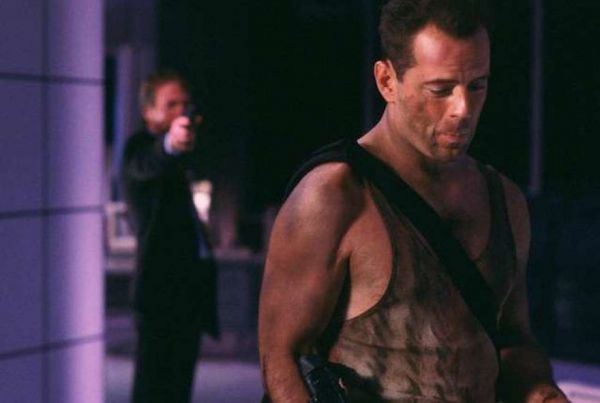 The 1988 movie Die Hard broke new ground in many ways. We had heartwarming Christmas family movies, and we had Christmas horror films, but this was a Christmas action blockbuster. It put comedic actor Bruce Willis into a heroic role we weren't used to at the time. And it introduced us to Alan Rickman as the attractive yet terrifying villain Hans Gruber. Die Hard holds up well 29 years later. And it has a long and really interesting backstory.
1. IT'S GOT A LITERARY BACKGROUND.

Think some action-loving Hollywood scribe came up with the concept for Die Hard? Think again. The movie is based on Roderick Thorp's 1979 crime novel Nothing Lasts Forever, which is a sequel to his 1966 novel, The Detective. In 2013, Thorp's long out-of-print book was resurrected to coincide with the film's 25th anniversary.

2. IT WAS INSPIRED BY THE TOWERING INFERNO.

The idea for Nothing Lasts Forever was inspired John Guillermin's 1974 disaster flick The Towering Inferno. After seeing the film, Thorp had a dream about a man being chased through a skyscraper by a group of men with guns. He eventually turned that snippet of an idea into a sequel to The Detective.
The extensive trivia list goes on to follow the casting, production, and pivotal moments of the film. Read the story of Die Hard at Mental Floss.