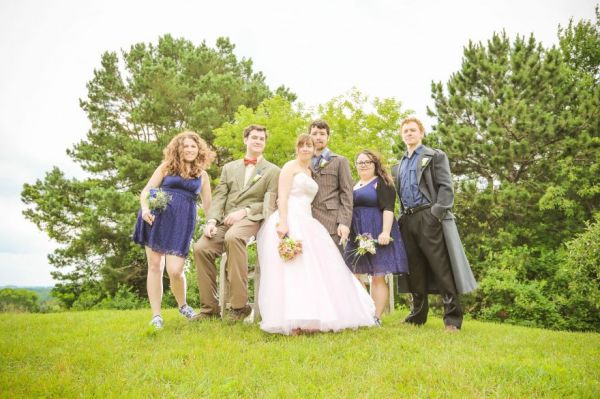 Microsoft employee Christopher Wilcox and his wife Anna Piechowski live in Redmond, Washington. In late June of this year they had a Doctor Who-themed wedding that was anything but the typical themed wedding. The level of detail and design is impressive. The planning that was behind such a production is monumental.
The ceremony and reception were filled with details evoking Doctor Who. The bridal gown was a likelness of Amy Pond's wedding dress and the groom was outfitted in a pinstripe suit like that of David Tennant's 10th Doctor. The bridesmaid's dresses were Doctor Who blue and the groomsmen dressed as a variety of characters from the series.
The bridal party gifts, invitations (sealed with a wax stamp Seal of Rassilon), table settings, wedding cake and card box were all painstakingly designed and produced in Doctor Who fashion. Of course, no Doctor Who event is complete without a TARDIS, and the Wilcoxes model, made by the bride's father, was flawless.

Wilcox posted photos of the bridal party and accessories to Imgur. See many more photos and get additional info in this article.


Table setting



Each table number corresponded to a different doctor


Invitations

TARDIS, made by the bride's father