Neatorama presents a guest post from actor, comedian, and voiceover artist Eddie Deezen. Visit Eddie at his website.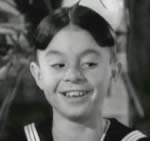 Carl "Alfalfa" Switzer was the most famous and popular member of the Little Rascals comedy shorts series. Several generations grew up watching these funny, talented kids in dozens of short subjects in the 1930s. (Note; the series was originally called Our Gang and was later changed to The Little Rascals, which is how most fans refer to it today.) These black-and-white films enjoyed a whole new life in television in the '60s, '70s, and '80s, and even now the classic shorts are seen by countless new generations on video and DVD (Image left: Wikipedia)

Producer Hal Roach (who also produced the classic Laurel and Hardy films) produced dozens of Little Rascals and Our Gang comedy shorts throughout the depression years of the 1930s. They starred very talented kids with names like Spanky, Buckwheat, Froggy, and girl heroine and sometimes love interest for the boys, Darla Hood.
Like Curly of the Three Stooges, Carl "Alfalfa" Switzer quickly rose above his young co-stars in terms of popularity. Alfalfa received fan mail from kids all over the world. According to one "Hollywood legend," Alfalfa was once mobbed by a big group of fans, while nearby, Clark Gable stood by unnoticed.


With his too-tight suit, freckles, and slicked-down haircut (complete with high cowlick), Alfalfa became a true Hollywood icon. Although he played an immensely likable character in the comedy shorts, in real life Alfalfa Switzer was no angel. According to co-star Darla Hood, "Alfie once put fish hooks in Spanky's back pockets and poor Spanky had to have stitches placed on his tush."

Another time, "Alfie put an open switchblade in his pocket and tricked Darla into into putting her hand in his pocket on the pretense that he had a ring for her from a Crackerjack box. She almost lost her fingers." On one occasion, to get back at a rude cameraman, Alfalfa had the kids all chew big wads of gum. then he took the combined wads and put them inside the man's camera.

According to other kids in the Our Gang cast: "Alfie would not pay attention to his school lessons in Mrs. Fern carter's class. He'd be kept after school often and kept everyone waiting on the set of the films."
Spanky told of Alfalfa's most dangerous prank: "We were filming one day and the scene called for the kids to show their own movie on a process screen. The rear projection system and the lights (with a thousand watts per bulb) were taking a long time to set up, so Alfie decided to use his time by going behind the screen and peeing on the bulbs. This is extremely hazardous, for even spitting on those bulbs is tantamount to setting off a series of bombs. The lights exploded and filled the studio with a tremendous stench. Everyone had to be taken off the set as the crew and director fixed the bulbs and cleaned up the mess Alfalfa created that day."
The success of The Little Rascals was great, but short-lived. By 1940, the series ended. Like most actors, Alfalfa found work hard to come by, in his case because of his instant recognition and type-casting as the world-famous "Alfalfa of the Little Rascals." Still, he was a talented actor and comedian, and he did get small roles in several films.


If you watch closely, you'll spot him doing a cameo in It's a Wonderful Life (1946) and White Christmas (1954), both classics. He did a bit in a John Wayne film called Island in the Sky (1940) and others, too.

Interestingly, Alfalfa's famous schtick in The Little Rascal comedies had him singing off-key. He would belt out painful renditions of famous songs. Ironically, Alfalfa thought he actually had a great voice. He never understood why audiences laughed when he sang his off-key tunes. At auditions, according to Darla, "They used to say to him, 'Hey Alfie, sing off-key for us.' It used to drive him crazy."
By the 1950s, although still acting part-time, Alfalfa had moved to Kansas and found work as a dog breeder and trainer on a farm. It was there that he met and married Diane Collingwood, who gave birth to their son. The marriage was short-lived, lasting only four months. A life of alcohol abuse and brushes with the law followed. Alfalfa was convicted of stealing trees from the Sequoia National Forest and selling them for Christmas trees in 1958.


The death of Carl "Alfalfa" Switzer is still a very murky chapter in Hollywood history. The story usually goes that on the night of January 21, 1959, Alfalfa and a friend named Jack Piott came to the ranch-style Los Angeles home of Bud Stiltz and angrily started pounding on his door. Stiltz opened the door and Alfalfa said, "I want my fifty bucks and I want it now!" Apparently, Alfalfa had loaned out a hunting dog to Stiltz and Stiltz had not paid him the agreed-upon fee of $50.

Stiltz was in the house with his wife and three stepchildren, and at this point, she and all three children ran to a neighbor's house. Stilltz then grabbed a gun from the dresser. When Alfalfa went for it, the gun went off. Alfalfa briefly gained possession of the gun, but Stiltz wrestled it back. At that point, Alfalfa drew a knife and threatened Stiltz by saying, "I'm going to kill you!" and throwing the knife at him. Stiltz had no choice but to shoot and kill Alfalfa. The coroner's jury ruled the death as a justifiable homicide.

But in 2000, a new witness, Tom Corrigan, came forward. He was the son of actor Ray "Crash" Corrigan and Bud Stiltz's stepson, and was only 14 years old at the time of the incident. Although for years it was assumed that the death of Alfalfa was his own fault, Tom disagrees. "He didn't have to kill him," he said of his stepfather.
Tom claimed Alfalfa was drunk when he came to see his stepfather. But he said he remembers Stiltz getting the gun immediately after Alfalfa entered. He says that during the struggle between his stepfather and Alfalfa, he himself was grazed by a bullet or a plaster fragment. At this point, because a kid was hurt, the struggle stopped. Tom then left with his mother and the other children and heard the fatal shot go off.
Tom came back into the house just in time to see the shocked look on Alfalfa's face and watch him slide down the wall -dead. Only by begging for his life was Alfalfa's friend, Jack Piott, spared. But according to Piott, Alfalfa never had a knife. However, a jackknife was found underneath Alfalfa's body, closed, and looking very conveniently-placed with no blade exposed.
The facts are conflicting. And why didn't Tom come forward sooner? A statement was taken from him in 1959, detailing the chain of events as he saw it. He had agreed to testify truthfully, but was never called.
One theory is that because Alfalfa was known to be such a nasty, unpleasant person, the police just decided to close the case with no further investigation. Bud Stiltz was easily exonerated.
Oddly, Alfalfa's death received hardly any coverage in the news on TV or in the newspapers. Why? Famed producer Cecil B. DeMille had died the same day and he got the lion's share of news coverage.
Ironically, too, Alfalfa's final movie role had been in the Tony Curtis-Sidney Poitier film
The Defiant Ones
(1958). In the movie he plays a guy in a posse tracking Curtis and Poitier -with a hunting dog.
One last oddity: Every Christmas after Alfalfa's death, Bud Stiltz would receive a Christmas card signed "Alfie." To the day he died in 1984, he never found out who sent him the annual cards.