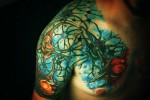 Tattoos have gone from subculture badge to trendy enough to be considered a societal norm. Geeks who were once afraid of their bodies, and getting tattoos on them, are now some of the most enthusiastic sporters of embedded ink.
Scientists are no exception, and they've joined the geek nation in adorning themselves with symbols of their passions in life, choosing imagery with a scientific edge in their body art compositions.
Check out the particularly good examples at the Popsci gallery link below, maybe you'll be inspired to get some ink of your own.
http://www.popsci.com/science/article/2011-11/science-ink-taxonomy-tattoos-inspired-science --image from SCIENCE INK by Carl Zimmer. Published by Sterling Publishing © 2011