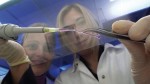 3D printers have been used to create some amazing things, from robot parts to minecraft models to flexible solar panels, but nothing compares to being able to print out body parts for surgery!
In Germany, researchers have created artificial blood vessels by putting a mix of synthetic polymers and biomolecules, so that the vessels aren't rejected, into the 3d printer ink reservoirs, and the results are a finely detailed set of transplant worthy capillaries precisely detailed in every way.
Now that they have succeeded in creating blood vessels, researchers are looking at ways in which to print out internal organs and bones. I wonder how much those ink cartridges cost to replace?
http://www.popsci.com/technology/article/2011-09/3-d-printer-can-manufacture-artificial-blood-vessels-tissue-engineering -image via Fraunhofer IGB