I kiss my son goodbye and I stand at the fence watching him as he enters into the kindergarten school yard. I hope for another wave, but he pays no more attention to me. He drops his backpack near the place he is supposed to line up. Almost instantly he is greeted by a bevy of girls who chat with him for just a moment. Then he is off running wildly through the grass with another little boy. He is a citizen of his class and school. I am but a privileged outsider. I remain his confidant at home, but at school he is one of them. He must navigate his way through the Kindergarten Tribes on his own.
From eight in the morning, until two in the afternoon, five days a week, he is part of Room 3. They march together, break bread together, and learn together. Their life is regimented. Each moment inside the classroom is accounted for. Structure is imperative. Without structure the class would break out into chaos. Even with structure there is sometimes chaos.
Twice a day, during recess and lunch, however, the children of Room 3 are permitted free play time. Of course they have some play time in the classroom, but for safety and sanity that must be limited and more structured. I don't think you can really call it true free play time. The true free play time comes when the children are released from the confines of their tiny classroom and marched to the wide open space of the kindergarten playground and set free.
I think it is only fair to note that my understanding of the playground tribes comes purely from my son's accounts and perceptions. In the quiet of our kitchen he sits and tells me about his other life. He animatedly describes his adventures as a citizen of Room 3. He especially likes to talk about the playground tribes, but he swears me to secrecy. The information he relays to me is classified. The tribes pride themselves on protecting their secrets.
The story he weaves is about two tiny neighboring kingdoms known as Room 2 and Room 3. Each kingdom houses about 25 citizens. Twice a day these kingdoms merge on the playground. From this melding 5 main tribes with 5 distinct leaders have arisen: The Diggers, The Minecrafters, The Ballers, and The Superheroes and The Girls.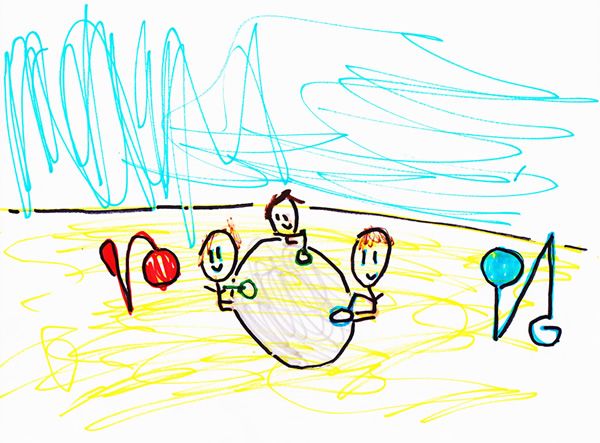 The Diggers
The Diggers are comprised of students who like to dig. They spend all or most of their free time in the sand area digging and building sand structures. There about 7 members of The Digger tribe.
Continue reading