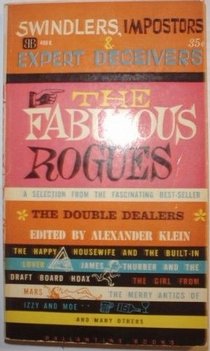 The following is an article from
Uncle John's Giant 10th Anniversary Bathroom Reader
.
The media's power to "create" news has become a hot topic in recent years. But it's nothing new. This true story, from a book called The Fabulous Rogues, by Alexander Klein, is an example of what's been going on for at least a century. It was sent to us by BRI reader Jim Morton.
Most journalistic hoaxes, no matter how ingenious, create only temporary excitement. But in 1899 four reporters in Denver, Colorado, concocted a fake story that, within a relatively short time, made news history -violent history at that. Here's how it happened.
THE DENVER FOUR
One Saturday night the four reporters -from Denver's four newspaper, the
Times, Post, Republican
, and
Rocky Mountain News
- met by chance in the railroad station where they had each come hoping to spot an arriving celebrity around whom they could write a feature. Disgustedly, they confessed to one another that they hadn't picked up a newsworthy item all evening.
"I hate to go back to the city desk without something," one of the reporters, Jack Toumay, said.
"Me, too," agreed Al Stevens. "I don't know what you guys are going to do, but I'm going to fake. It won't hurt anybody, so what the devil."
They other three fell in with the idea and they all walked up Seventeenth Street to the Oxford Hotel, where, over beers, they began to cast about for four possible fabrications. John Lewis, who was known as "King" because of his tall, dignified bearing, interrupted one of the preliminary gambits for a point of strategy. Why dream up four lukewarm fakes, he asked. Why not concoct a sizzler which they would all use, and make it stick better by their solidarity.
Continue reading