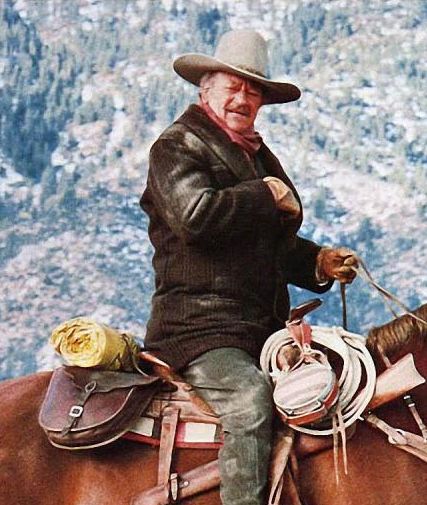 Neatorama presents a guest post from actor, comedian, and voiceover artist Eddie Deezen. Visit Eddie at his website or at Facebook.
He was, quite probably, the most popular and beloved movie star of them all. More than that, he was an American icon- ranking with Washington, Lincoln and Davy Crockett.

John Wayne's last film was to be The Shootist. Actual figures vary because Wayne did so many obscure films early in his career, but it was around his 175th film. Co-starring Ron Howard and Lauren Bacall, Wayne's director was Don Siegel.

Wayne had hated and insulted Siegel back in earlier days, when someone mistakenly told him Siegel was a communist. John was a virulent anti-commie, but he found out that the rumor was untrue. He approached Siegel and said, "Kid, I owe you an apology".

Wayne had lived a very full life (an understatement!) and his 70-year-old body was quickly breaking down. The filming was very unsteady, due to the Duke's bad health. He had trouble breathing and there was an oxygen talk on the set for him to take breaths. There were bad coughing spells and Wayne missed several days shooting, necessitating the use of a double.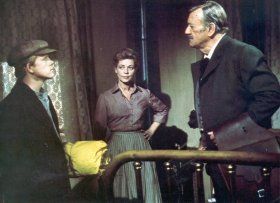 Wayne, like so many people in great pain, was moody, angry and often hostile. One day he blew up at the cameraman, bawling him out for not filming right and not paying enough attention to "lighting." Siegel then angrily told Wayne to leave the cameraman alone and take a look at the dailies (the previous day's footage). John did come in and watch the dailies and he was pleasantly surprised. "That's the best damn film of me I've ever seen. I love you and i hope you'll forgive me," he said.

Unfortunately, The Shootist was a massive flop, grossing less than $6 million domestically. Wayne, not broke, but in need of money, was now forced to star in TV commercials- something he never did before. He filmed commercials for "Datril" (an aspirin subsitute) and "Great Western Savings & Loan."

The Duke had said, "Two lousy, crooked business managers done me in." Wayne's bad investments had cost him a fortune. He was somewhat bitter, knowing that he deserved to be much more well-off after all the years of performing he'd put in.
Continue reading