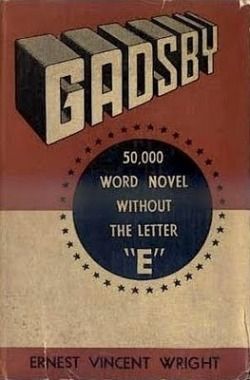 Instead of judging works of literature based on their artistic merit, we've decided to rank them by degree of difficulty. These 10 authors may not be Shakespeare, but they sure had vaulting ambitions.
1. The Story That Will Never Be an e-Book
Gadsby by Ernest Vincent Wright
Some might call Gadsby a "love" story. But Ernest Vincent Wright wouldn't have used that word. Instead, he described his novel as a story of "strong liking" and "throbbing palpitation." That's because in 1939, Wright gave himself one restriction: He promised to write Gadsby without using the letter E.
Wright wanted to prove that a great author could work around such a restriction and still tell a gripping story. To prevent any stray Es from entering the text, he tied down his typewriter's E key, and then put his expansive vocabulary to the test. The result is an astounding feat of verbal gymnastics. While vividly describing a wedding scene, Wright manages to avoid the words "bride," "ceremony," and even "wedding" (he calls it "a grand church ritual"). To explain away the verbosity of the language, he uses a narrator whose poor command of English and circumlocution even irritates the story's other characters.
When the book was announced, one skeptic attacked Wright in a letter, claiming that the feat was impossible. "All right," replied Wright in the book's intro, "the impossible has been accomplished." Sadly, Wright didn't live long enough to revel in Gadsby's critical acclaim. He died the year the book was published.
2. The Tale Told in the Blink of an Eye
The Diving Bell and the Butterfly by Jean-Dominique Bauby
Many authors have struggled through illness and injury to write their masterpieces, but none more so than Jean-Dominique Bauby, editor-in-chief of French fashion magazine Elle.
In 1995, at the age of 43, Bauby suffered a major stroke and slipped into a coma. He regained consciousness two days later, but his entire body—with the exception of his left eyelid—was paralyzed.
Continue reading