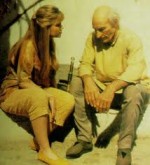 In our last
Question of the Day
, I asked readers to identify their favorite episode of classic
Star Trek
. Commenter Kevin R proposed that we talk about some of the other series, including
The Next Generation
, and I think that's a fine idea.
Mine is "
The Inner Light.
" In it, an alien probe causes Jean-Luc Picard to experience a full life -- including marriage, friends, children, and grandchildren -- in a single moment. Then it was gone, like the civilization that built the probe. It is a
sad and wistful tale
, brilliantly crafted, and greatly deepened Picard's character.
What's your favorite episode of Star Trek: The Next Generation?
Image: Paramount