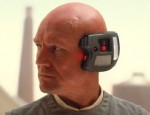 Do you remember Lobot, Lando Calrissian's cyborg assistant in
The Empire Strikes Back
? He doesn't have the most glamorous of jobs in the galaxy.
Geeks of Doom
peeks into his daily planner so you can understand Lobot's ordeal. Here's how it starts:
6:30 a.m: Wake up, unplug head from charger.

6:45 a.m: Yoga, Tai Chi, and Rhythmic Gymnastics.

7:15 a.m: Hop in the shower and shave face, shave head, brush teeth, and buff headset.

7:45 a.m: Download Mr. Calrissian's itinerary, new episodes of Lost, and the newest album by Figrin D'an and the Modal Nodes.

7:55 a.m: Escort the hos out of Mr. Calrissian's room and offer them the usual settlement package.
Link
via
Digg
| Image: Lucasfilm