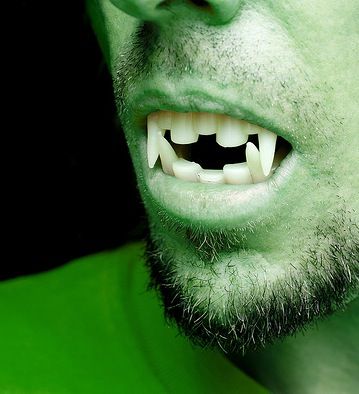 An unnamed man in Turkey was diagnosed two years ago with vampirism, dissociative identity disorder, major depressive disorder, alcohol abuse, and post-traumatic stress disorder. The PTSD, and possibly the alcohol abuse, were attributed to the crimes he committed due to the vampirism.
A 23-year-old married male (3rd of 6 siblings) presented with a 2-year history of 'addiction' to drinking blood. He used to cut his arms, chest, and abdomen with razor blades to collect the blood in a cup and to drink it. The initial interest in drinking his own blood had subsequently turned to that of others'. These 'crises' were characterized by a strong urge to drink blood immediately, 'as urgent as breathing'. He enjoyed the smell and taste of blood despite finding this 'foolish'. He also enjoyed biting wounds of others to taste flesh. He was arrested several times after attacking people by stabbing and biting them with the intention of collecting and drinking their blood. He forced his father to obtain blood from blood banks.
The man had suffered from several traumatic incidents before turning to blood. Doctors believe he has now been cured of his "blood addiction." Read the rest of the story at Smithsonian. Link

(Unrelated image credit: Flickr user creepyhalloweenimages)
---

We hope you like this article!
Please help us grow by sharing:
Get Updates In Your Inbox
Free weekly emails, plus get access
to subscriber-only prizes.
We won't share your email. You can cancel at any time.