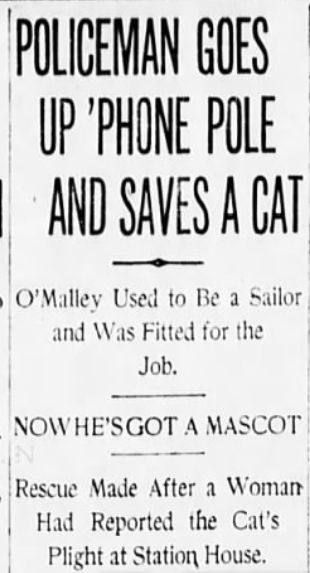 In 1909, there was a policeman at the 37th precinct in the Bronx who was a former sailor. He apparently annoyed his co-workers by bragging about his physical abilities back in his seafaring days, when he wasn't quite so stout. Bill O'Malley was called out to prove his stories when a distraught Mrs. Erickson came into the station to report an abused kitten.
"It was a shame, Captain, an outrage" she said. "You must send your men right away and have it stopped." Her tears reportedly flowed so heavily that the captain could barely make sense of her words.

"Calm yourself, madam, and speak slowly, and I will help you," he told her. Mrs. Erickson told him about the little kitten on top of a telephone pole, where it had perched since the day before.

"Wicked boys are throwing pieces of ice and sticks at it," she said in between sobs. "If you don't send your men right away to stop them I will climb the pole myself and bring down that kitten if it breaks my neck."

Captain Post called for Policeman O'Malley, knowing he had once been a sailor. "You're always bragging how you used to be a sailorman and loved to lay aloft in a howling gale," the captain said. "Now, here's your chance. If you can climb like you say you can, go with this lady and shin up that pole and save that kitten."
O'Malley was game to give it a try, which you can read about at The Hatching Cat.