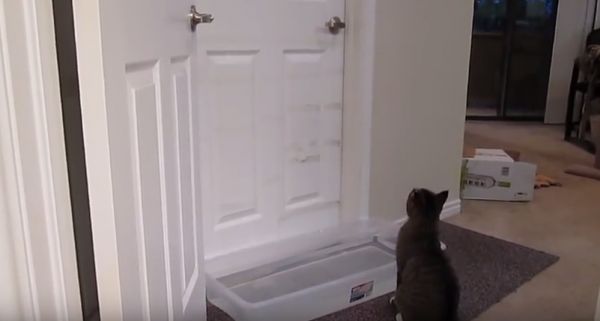 Sven has a cat named Muldar who is a genius. He wants what he wants and no human shenanigans are going to stop him. Closing the door? Pfft! Muldar will just open it. Set a pan of water in front of the door? Not a problem. For Muldar. For Sven, it's a problem.
Sven noted that the water pan was added to keep Muldar from scratching at the door, and that putting a round knob on the door (as has been recently suggested) would make no difference. I concur; Muldar would just figure out how to open a door with a round knob. -via reddit
---

We hope you like this article!
Please help us grow by sharing:
Get Updates In Your Inbox
Free weekly emails, plus get access
to subscriber-only prizes.
We won't share your email. You can cancel at any time.