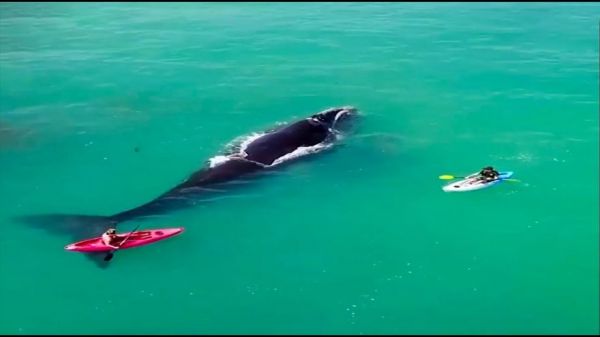 Something about whales makes them seem approachable and nice, but these massive yet mellow sea creatures have been hunted and mistreated by people so approaching a whale in the wild is not a good idea.
And yet few wild whale encounters turn deadly because these gentle giants would rather warn people to stay away than hurt them, which is why these two curious kayakers who got a little too close to a large southern right whale lived to tell the tale.
This incredible footage was captured by a drone piloted by surfer Michael McCormick, who reiterated the rules about staying away from wild whales:
"The police came through with their boat and they got their loudspeaker out and told them to go away," McCormick said. "The rules are stay 100m from whales. That's what the police were saying over loud speaker."

Perth Now also reported that the whales had been spotted many times by locals in Perth over the last few weeks, prompting State government marine park coordinator Mel Evans to issue a statement about their safety.

"The mother and calf appear to be in excellent physical condition and are displaying normal behaviours like spy hopping, logging and waving," her statement said. "Viewing whales is best done from the higher vantage points on the mainland, rather than from vessels which are required to remain a safe distance of at least 100m from the animal."
-Via Travel + Leisure
---

We hope you like this article!
Please help us grow by sharing:
Get Updates In Your Inbox
Free weekly emails, plus get access
to subscriber-only prizes.
We won't share your email. You can cancel at any time.