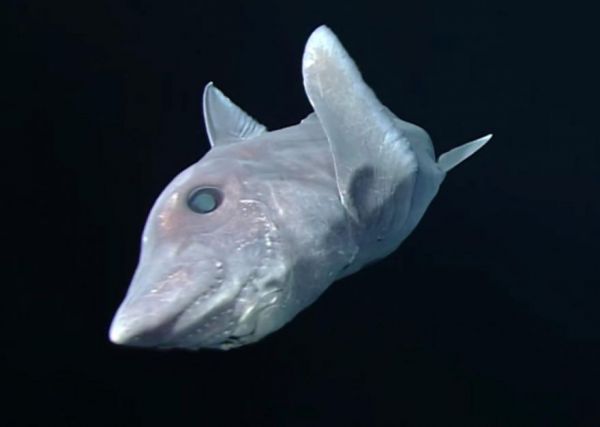 They're strange looking relatives of sharks and rays, they're elusive and live 2600 meters or more below the surface, and they have retractable sex organs on their foreheads.
They're Chimaeras, or ghost sharks or pointy-nosed blue ratfish, and they've never been captured on video before 2016, when a remotely operated vehicle deployed by the Monterey Bay Aquarium Research Institute caught this swim-by on camera.
Chimaeras are normally thought to inhabit the waters around New Zealand and Australia, but the remote vehicle captured the Chimaera swimming in the Northern Hemisphere, which researchers found interesting.
What you might find interesting are these strange physical traits of the Ghost Sharks, via National Geographic:
Unlike those more well-known sharks, chimaeras don't have rows of ragged teeth, but instead munch up their prey—mollusks, worms, and other bottom-dwellers—with mineralized tooth plates.
A pattern of open channels on their heads and faces, called lateral line canals, contain sensory cells that sense movement in the water and help the ghost sharks locate lunch.

And perhaps most fascinating, male chimaeras sport retractable sex organs on their foreheads.
-Via Boing Boing
---

We hope you like this article!
Please help us grow by sharing:
Get Updates In Your Inbox
Free weekly emails, plus get access
to subscriber-only prizes.
We won't share your email. You can cancel at any time.