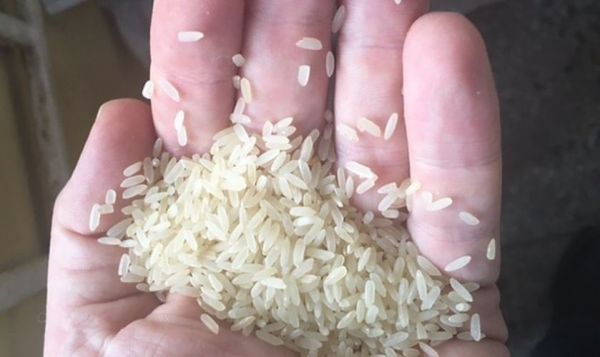 The fake food hustle is still going strong in countries around the world, and the targets of the scam are usually poor people in third world countries who can't afford to do anything about being ripped off.
But these fake food scams are typically small operations selling products that aren't necessarily deadly when ingested, and many more fake food incidents are simply urban myths spread to keep people on their toes.
However, a two and a half ton shipment of "Best Tomato Rice" was intercepted in Nigeria and is currently being tested- because the rice may be nothing but grain shaped pieces of plastic:
Lagos customs chief Haruna Mamudu said the fake rice was intended to be sold in markets during the festive season.

He said the rice was very sticky after it was boiled and "only God knows what would have happened" if people ate it.

It is not clear where the seized sacks came from but rice made from plastic pellets was found in China last year.

"Whoever made this fake rice did an exceptionally good job" says the BBC's Martin Patience, "on first impression it would have fooled me. When I ran the grains through my fingers nothing felt out of the ordinary. But when I smelt a handful of the "rice" there was a faint chemical odour."

Customs officials say when they cooked up the rice it was too sticky - and it was then abundantly clear this was no ordinary batch.
NEW EDIT- The debate is over and the verdict is in- the plastic rice is normal rice contaminated with microorganisms:
Speaking at a press conference yesterday, a senior official with the NAFDAC said levels of bacteria, including Coliform, found within the rice were "above permissible limits," and that the product was unsuitable for human consumption. On its own, this bacteria isn't usually harmful, but its presence is an indicator of other contaminants, such as microorganisms that dwell in fecal matter, disease-causing bacteria, viruses, and parasites.

Speaking at the same press conference, a Nigerian Customs Service (NCS) official said he had acted on "credible intelligence" that "large consignments of plasticized rice were...to be shipped from the Far East to Africa." He added that the NCS would intensify patrols to prevent further batches of tainted rice from entering the country's borders.

Troublingly, intelligence reports suggest that several tons of this dangerous rice are still lying in wait in warehouses in neighboring countries.
Read That 'Fake Plastic Rice' in Nigeria was actually something much more depressing here
EDIT- This story has been confirmed to be false, thanks to A. DeBusk for sharing this information:
On 24 December 2016, Nigeria's Ministry of Health announced that tests on the "plastic rice" had revealed the rice was in fact not plastic:
In [a] statement, Yetunde Oni, acting director-general of the National Agency for Food and Drug Administration and Control (NAFDAC), who briefed minister, was quoted to have said that preliminary findings by the agency failed to validate the claim by the NCS.

"Following the reports on the seizure of 'alleged plastic rice', NAFDAC team of inspectors led by the Director Ports Inspection Directorate(PID) and Director laboratory services visited the Area Comptroller's Office, Ikeja, Lagos and drew samples from the seized consignment for laboratory analysis," Oni said.

"The products were in 25kg pack size with no NAFDAC number, batch details and manufacturing details of address of manufacture and date markings.

"The following preliminary tests and results were found to be in conformity with the specification for rice: Floating — negative, cooking — normal, odour — normal, colour- off-white rice grains , moisture -13.0 , pre-ashing — normal." -Via Snopes
-Via Boing Boing
---

We hope you like this article!
Please help us grow by sharing:
Get Updates In Your Inbox
Free weekly emails, plus get access
to subscriber-only prizes.
We won't share your email. You can cancel at any time.