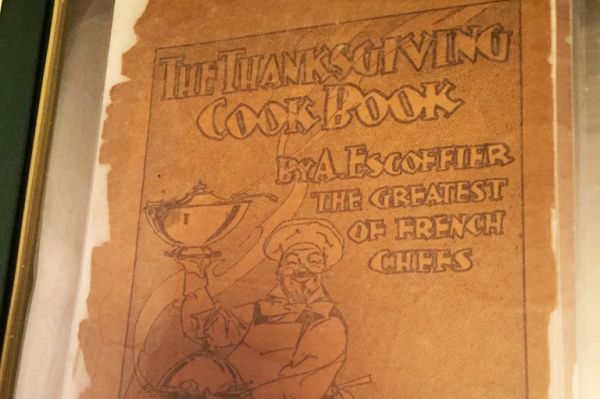 A couple times already this year, we've discussed how Thanksgiving dinner is a celebration of American foods. That part of the feast flew over the head of one of the most famous French chefs ever. Auguste Escoffier wrote Le Guide Culinaire in 1903, which became a bible of sorts for French cooking. That's what he is most remembered for. But in 1911, he wrote Thanksgiving Cookbook as a newspaper supplement. That one is rarely mentioned these days.
The book was intended to double as a guide for home cooks preparing a Thanksgiving meal and an intro to French cooking. Escoffier did include a suggested menu for a multi-course Thanksgiving meal. Strangely, though, it did not have any of the dishes we'd now associate with Thanksgiving—no turkey, no mashed or sweet potatoes, no stuffing, no gravy, no green beans or brussels sprouts, no squash of any kind, no cranberry sauce, and no pumpkin pie.

Instead, in the cookbook, Escoffier offered 12 separate recipes for rabbit, a chapter on ragouts that featured only mutton, recipes for tomato sauce and macaroni; "some new ways for preparing tomatoes" including "Tomatoes à la Americaine" (basically tomatoes sliced and sprinkled with salt, pepper, vinegar and oil); crawfish recipes and tips on making cream soups.
Yeah, tomatoes are American, but are usually out of season for most of the country by Thanksgiving. The story of how Escoffier totally misunderstood the American attitude toward French cooking for an American holiday is at Atlas Obscura.

(Image credit: Sunday American/Sarah Laskow)
---

We hope you like this article!
Please help us grow by sharing:
Get Updates In Your Inbox
Free weekly emails, plus get access
to subscriber-only prizes.
We won't share your email. You can cancel at any time.