If you happen to find yourself in Southern California this summer you might want to check out The Huntington.  The Huntington, in San Marino,  boasts an extensive botanical garden which is a perfect place to take little kids to run around and burn off excess energy. The only thing you have to worry about on the grounds is the occasional golf cart passing by.
All the gardens there are beautiful, but our favorite place to hang out with kids is the Children's Garden.  This garden boasts tons of little water fountains.  Some have leaping water, some spray, and some spin.  There are areas with misters, tunnels to crawl through and just lots of little areas to explore. The best part is there is pretty much only one way in and one way out of this garden.
My oldest loves the magnetic sculpture where she can play with magnetic sand.   A warning to parents of  little kids: watch that they don't try to throw the black sand. I once left looking like a coal miner.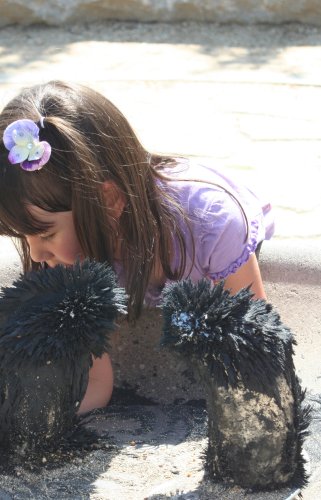 One suggestion to anyone thinking of taking their kids to the Huntington is to bring a change of clothes and maybe a towel. If you have water socks bring those too.  The kids always leave the Children's Garden soaked. If you are looking to keep your kids dry you might want to skip the Children's Garden and enjoy the Japanese and Chinese gardens instead.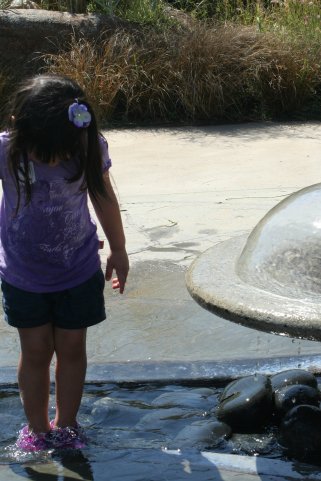 The Huntington is known for housing some very rare and exotic plants. On our last visit there we had a chance to introduce our kids to Big Stinky.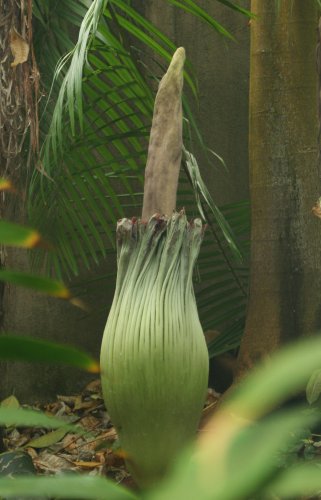 Amorphophallus titanum, or the Corpse Flower, is a plant that is native to the Sumatran rain forests.  It doesn't bloom very often, or for very long ( we caught the bloom as it was closing). But, when it does it causes a big stink.  People come from all over to see this strange bloom that smells like rotting meat and attracts flies.  It is the only plant I have ever seen that came with its own security detail.
The Huntington also has a wonderful library full or rare books and several art galleries.  On display until the end of July is a small but wonderful collection of children's book illustrations from 19th-century Britain.
The downside of the Huntington is you aren't allowed to bring in food.  They do have two little tea rooms.  One is near the rose garden and the other is in the Chinese garden.  The one near the rose garden has a decent selection of food and snacks.  They even have gummy bears.  The tea room near the Chinese garden is more limited, but is does offer a small dim sum selection.
http://www.huntington.org/default.aspx
---

We hope you like this article!
Please help us grow by sharing:
Get Updates In Your Inbox
Free weekly emails, plus get access
to subscriber-only prizes.
We won't share your email. You can cancel at any time.