How did the sport of competitive giant pumpkin-growing get so big? I mean, it's really big!





1. Chris Stevens of New Richmond, Wisconsin grew a pumpkin in 2010 that weighed in at 1,810.5 pounds -considerably bigger than the previous world-record pumpkin that weighed 1,725 pounds. The big pumpkin was weighed at the Stillwater Harvest Fest in Stillwater, Minnesota. How did he grow a pumpkin that big? Stevens has a 10,000-square-foot pumpkin patch, in which he grows only one pumpkin per vine. He shades the fruit from the sun, and feeds the vines cow manure, fish emulsion and seaweed.
Update: In 2012, we finally achieved the Holy Grail of giant pumpkin competition, the One-Ton Pumpkin.

2. Competitive pumpkin growing really began with William Warnock of Ontario. He grew the Rennie's Mammoth variety of pumpkins, which were billed as capable of growing to over a hundred pounds. However, Warnock's pumpkins were much bigger. In 1900 and 1904 he produced fruits that weighed over 400 pounds! His 403 pound world record set in 1904 stood for 76 years. See Warnock's pumpkins here.


3. The most common variety of pumpkin grown for world-record competitions is the Atlantic Giant, which produces the largest fruit of any plant in the world. The variety was first cultivated by Nova Scotia farmer Howard Dill in 1976. It was Dill who finally broke Warnock's big pumpkin record in 1979, and grew record-setting pumpkins for several consecutive years afterward. The Dill family still sells the record-breaking seeds.

4. During the last few years of the 20th century, the competitive pumpkin community was rocked by cheating, scandals, and infighting -enough to power a soap opera. The main governing body of the competitions was the World Pumpkin Confederation. A split in the membership led to the creation of the Great Pumpkin Commonwealth, which now oversees official weigh-ins.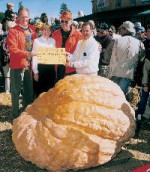 5. The first pumpkin that weighed over a thousand pounds was grown in 1996 by Paula and Nathan Zehr of Lowville, New York. Their record-breaking pumpkin weighed an astounding 1,061 pounds, which won the couple a $50,000 prize for reaching the 1,000-pound milestone. Since then, half-ton pumpkins have become "common". The world record for large pumpkins has been broken every year this decade, except for 2008.
---

We hope you like this article!
Please help us grow by sharing:
Get Updates In Your Inbox
Free weekly emails, plus get access
to subscriber-only prizes.
We won't share your email. You can cancel at any time.