Avid I Met a Possum readers (Hi mom and Jennifer!) already know that a few friends and I took it upon ourselves to investigate the Lizzie Borden house in Fall River, Mass., last weekend. We had such a blast that we've decided to return to the area in the fall (preferably October) to do a whole Haunted New England kind of thing. So I was doing a little research on what is in the area and found a handy little list of paranormal locations in the States. I was pretty surprised to see how many hospitals made the list. I guess I shouldn't be – it's very House on Haunted Hill (the 1999 version with Geoffrey Rush, not the 1959 Vincent Price film). Obviously some terrible things were done to patients before modern medicine intervened, so it's not too off-base to think that some tortured spirits are still lurking about. Below are a few of the (allegedly) haunted hospitals I found most intriguing – hopefully you will too.
Fairfield State Hospital (AKA Fairfield Hills)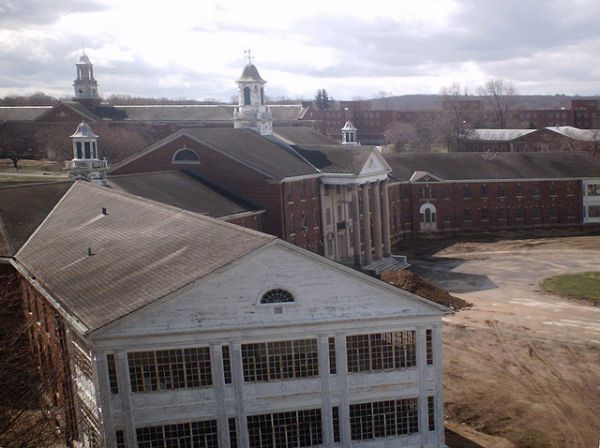 (Image credit: Flickr user G F)
Despite their best efforts, the city of Newtown, Connecticut has been unable to squelch Fairfield State Hospital's eerie reputation. Then again, they have allowed it to be used for several decidedly spooky shoots, including Sleepers and MTV's Fear. The asylum has been in Newtown since 1931, but most of its buildings have been standing empty for the past 13 years. At its peak period of operations, it housed almost 4,000 patients. Fueling the scary stories is the fact that its numerous buildings are all connected by underground tunnels. Were these simply for transporting patients during bad weather, or was it an easier way to dispose of dead bodies?
Glenn Dale Hospital
(Image credit: Ladyb695)
Glenn Dale opened in the same era as Fairfield State – the 1930s was a popular time for mental institutes, apparently. Well, actually, Glenn Dale wasn't originally used for that purpose – it was a tuberculosis hospital with one building for adults and one for children. Eventually the tuberculosis problem died down and Glenn Dale was repurposed. It closed in 1982 due to asbestos and structural problems, but before it closed it was (supposedly) home to the criminally insane. As with Fairfield State, the buildings are connected via underground passageways, which people have been exploring since the day Glenn Dale officially closed its doors. Exploration might not be the best idea, though, and not just because of the asbestos (although that should be an obvious deterrent).
One rumor says that when the hospital closed, the remaining patients were just turned loose. Having nowhere else to go, many of them simply broke back into the abandoned buildings and lurk there even today. Another story goes that a police officer went to check out the buildings himself after getting a call that the buildings were being vandalized by a bunch of kids. After he went in, someone in the vicinity heard gun shots and called the police. When the police arrived, they found the first officer standing in one of the rooms, staring straight ahead at nothing. He had emptied his gun firing at something that no one ever found.
(Image credit: CLK Hatcher
Connecticut is a popular spot for haunted hospitals, I guess, because Norwich State Hospital can be found in Preston and Norwich, Conn. Oh, and guess what else? More underground tunnels. The mental hospital was built in 1904 and had 151 patients the very day it opened. By the 1960s, the hospital reached a record high of 3,186 patients. Perhaps piggybacking off of the success of MTV's Fear, VH1 sent contestants of the Celebrity Paranormal Project here but didn't quite represent the place accurately: they fixed old, coverless couch cushions to the walls in a small room and told the celebrities that it was an old padded cell for the truly disturbed patients when in reality such a room never existed.
Waverly Hills Sanatorium
(Image credit: Flicker user Aaron)
Waverly Hills Sanatorium in Louisville, Kentucky, has been called the most haunted place in the U.S. Some reports put the number of deaths that occurred at this tuberculosis hospital at more than 60,000. While I had some problems digging up ghost stories from some of these allegedly haunted sites, stories from the Waverly Hills Sanatorium are plentiful. When WHS opened in 1926, it was considered the most advanced TB hospital in the world. Still, at the time, not much was known about the disease and how to treat it, so a lot of the treatments were extremely experimental – these patients were more or less guinea pigs. Lots of them exited the hospital via the "body chute", a tunnel that led from the hospital to railroad tracks that allowed for discreet corpse disposal.
In addition to the dying tuberculosis patients, at least two nurses committed suicide at Waverly. In 1928, the 29-year-old head nurse, pregnant and unwed, hanged herself in the nurses' station. In 1932, another nurse who worked in the same room leapt off of the balcony to her death several stories down. Creepy stories include a chef who still walks the kitchens (you can tell he's present when you smell freshly baked bread), apparitions of a woman with chains around her arms and legs and blood dripping from her wrists, ghostly children wandering about and eerie red glows. Troy Taylor, a paranormal author, visited Waverly Hills with Louisville Ghost Hunter founder Keith Age and experienced plenty of paranormal activity. In Troy's own words,
"Keith was standing in the corner, looking at the changes on the meter scale, when an empty plastic soda bottle came seemingly out of nowhere and struck him in the back. As he turned to see what had happened, an overhead fluorescent light fixture suddenly came loose from the ceiling with a loud crack. With one end of it still anchored to the ceiling, the other end swung loose and hit Keith in the side of the head. The long burned-out bulb that remained in the fixture shattered when it collided with Keith and showered him with glass. Before he even had time to react, he heard the sound of a brick scrape across the concrete floor. The noise came from the opposite corner of the room and when he looked over, he saw the brick moving across the floor towards him. With a lurch, it shot directly at him and as he scrambled to get out of the line of fire, it hit him in the small of the back. Needless to say, he quickly retreated from the room. The other investigators had not seen where the brick or the soda bottle had come from, but they had clearly heard the brick move and had seen both objects strike Keith."
You can read more about Keith and Troy's experiences at PrairieGhosts.com.
Athens Lunatic Asylum
Giving Waverly a run for the "Most Haunted Abandoned Hospital in the United States" title is the Athens Lunatic Asylum in Athens, Ohio. After opening its doors in 1874, many of its first patients were Civil War veterans suffering from post traumatic stress disorder. What has proved to be one of the most enduring stories from the Asylum occurred more than 100 years after its grand opening, however: on December 1, 1978, a patient named Margaret Schilling disappeared from one of the active wards. They found her body more than a month later in the top floor of ward N. 20, which had been abandoned for years. The official cause of death was heart failure--probably due to her exposure to the December cold in an unheated section of the hospital. Her death isn't the weird part, though – what's weird is that her body left a stain that you can still see today.
(Image credit: Leslie K. Dellovade)
One of the reasons ALA makes the Most Haunted Places in the U.S. list is because of its strange location. If you draw a line from each of the five cemeteries around Athens, the shape ends up being a pentagram with Ohio University being right in the middle, which is where ALA is located. I couldn't actually find a map that backed this theory up, though – does anyone have one?
Like I said, there are a surprisingly large number of abandoned hospitals and asylums scattered across the country. Are there any in your town? Let's hear your stories!
---

We hope you like this article!
Please help us grow by sharing:
Get Updates In Your Inbox
Free weekly emails, plus get access
to subscriber-only prizes.
We won't share your email. You can cancel at any time.