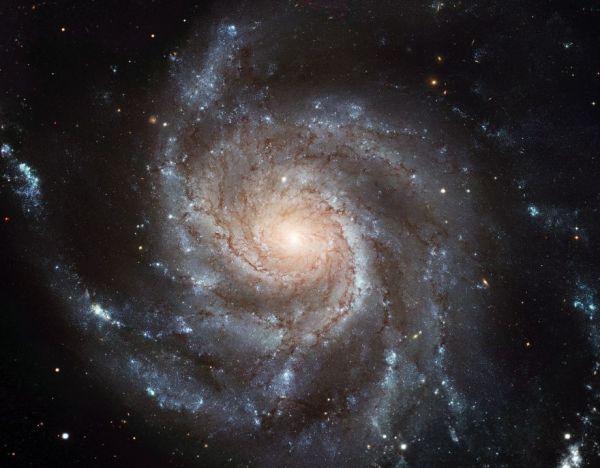 Have you ever wanted to observe an exploding star, but you don't have a telescope? In the 21st century, you don't have to own a telescope to watch it happen.

Just a few days ago, a type II supernova was discovered in the Messier 101 galaxy, also known as the Pinwheel Galaxy (shown above). This supernova has been named SN 2023ixf. In case you are wondering, it is 21 million light-years away, and poses no threat to earth. This is the closest supernova to be observed in the past five years, and the second closest in the past ten years.
Supernova #SN2023ixf in Messier 101, as imaged on a small 115mm refractor in an Indiana backyard.

Direct comparison before the supernova (May 16) and after (May 20), where it's already a brilliant white object dominating this galaxy. #Astrophotography https://t.co/xUNn4r41sa pic.twitter.com/b9oH6vLHcH

— Paul Macklin (@MathCancer) May 22, 2023
The collapse of this giant star will be livestreamed, thanks to The Virtual Telescope Project. The livestream begins at 6:30 PM Eastern Time (22:30 UTC) on May 25 Friday May 26 at YouTube. The project is using 14-inch and 17-inch telescopes in Ceccano, Italy. It will presumably be available to replay after the livestream. It seems a bit strange to call it a livestream, as this explosion happened 21 million years ago- but we are just now receiving the visuals here on earth. If you happen to have a telescope, and live in the Northern Hemisphere, you should be able to find SN 2023ixf in the Ursa Major constellation, in the handle of the Big Dipper. The supernova will be visible for a few more months. -via Metafilter
Update: The livestream has been delayed by high winds, and will commence on Friday evening at 6:30 PM Eastern Time.
(Image credit: European Space Agency & NASA)